DC Comics Game Infinite Crisis Is Shutting Down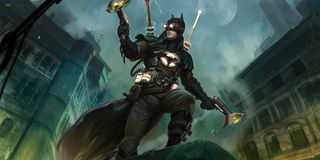 Infinite Crisis is being shut down less than two months after its official launch. Publisher Warner Bros. announced that the DC Comics multiplayer game will end this summer.
"After much deliberation, we regret to announce the official shutdown of Infinite Crisis," Warner Bros. announced on Steam. "We will end development efforts today and will close the service on August 14, 2015."
The announcement doesn't mention why they're ending the game so abruptly. They merely said that it was a "difficult decision."
"On behalf of the entire Infinite Crisis team we want to thank all of you for your feedback, support and for joining together to create one of the best communities in gaming."
Infinite Crisis is a MOBA, or multiplayer online battle arena. Two teams of players, each controlling a character with distinct abilities, battle for control of objectives and power-ups. In the main map, Gotham Divided, the goal was to level up your characters enough so you can smash the enemy base's defense and destroy the Power Core at the center.
The game's roster was made up of DC Comics super heroes and villains. Several of these characters were pulled from alternate worlds. For example, players could become a steampunk Catwoman, a post-apocalyptic Wonder Woman or a vampiric Batman.
The name recognition of these DC characters helped Infinite Crisis attract players initially but the game couldn't retain them. Steam Charts shows that the game peaked at 6,921 simultaneous players in March and has since declined dramatically. During the last 30 days, the highest peak was 1,557.
That kind of drop in players is devastating for a game that centers around online play. It's a problem that snowballs, too. If you can't quickly find an online match in a game, you're not going to keep playing. If you leave, then that just increases the wait for a match for everyone else and makes them less likely to keep playing too.
While it's unclear exactly why players left Infinite Crisis, the abundance of rival games didn't help. Steam alone is home to several other free-to-play MOBAs, including the wildly popular Dota 2. Beyond that platform, there are also entrenched competitors like SMITE and League of Legends. The genre keeps growing, too. Blizzard just entered the fray with Heroes of the Storm this week. Yes, the DC Comics brand counts for a lot but it's not enough to get players to stick with Infinite Crisis when there are so many other games to choose from.
If you purchased either The Starter Pack or The Elite Pack for Infinite Crisis, Steam will be offering refunds. You can find out how to get your money back here.
Your Daily Blend of Entertainment News
Staff Writer at CinemaBlend.