Smite Lets You Be A God For Free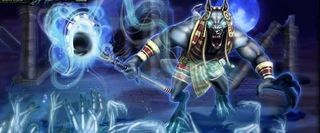 Global Agenda and Tribes Universe developer Hi-Rez Studios revealed today that they've got another multiplayer game in development. Smite is a free-to-play, third-person perspective action game that lets you play as a mythical god.
Smite is said to be inspired by Defense of the Ancients. Each player controls a god and must battle deities controlled by other players as well as their A.I. minions. Victory will require coordination with your teammates as well as mastery of the powers your specific god possesses.
"As a studio and as gamers, we love competitive multi-player games that reward teamwork and strategy", said Hi-Rez Studios COO Todd Harris. "With Smite, we draw inspiration from DoTA-style RTS titles, but leverage the Unreal 3 Engine to introduce original action oriented combat mechanics, great graphics, and a mythology-themed setting. These session-based games depend upon balanced class design, sophisticated stat-tracking, and matchmaking functionality."
"These are features we understand well from Global Agenda and our studio is excited to progress team-oriented PvP in new and original directions with Smite. At this point we already have a really fun playable version of Smite and we look forward to sharing additional details about the project in the coming months."
No word on a release date yet. The first concept art, below, shows Egyptian god Anubis and Greek god Zeus. Presumably they're both playable characters.
Staff Writer at CinemaBlend.
Your Daily Blend of Entertainment News
Thank you for signing up to CinemaBlend. You will receive a verification email shortly.
There was a problem. Please refresh the page and try again.