Dark Souls 2 Sunken King DLC Out Today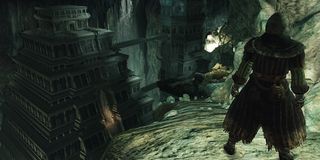 The first installment of Dark Souls 2's DLC trilogy is ready for daring adventurers, out today on the PlayStation Network, Xbox Live Marketplace and Steam. In today's Crown of the Sunken King pack, you can expect new areas to explore, new monsters to battle, new bosses to topple and, yes, new ways to die over and over again.
Earlier this year, Bandai Namco announced that Dark Souls 2 would receive a triple dose of post-launch content in the form of The Lost Crowns Trilogy. According to the development team at From Software, each bit of DLC was "specifically designed to enhance, challenge and bring players to their knees as they experience the peril that is awaiting them." Yep, that pretty much sounds exactly like what we've come to expect out of the series.
For those unfamiliar with the game, Dark Souls 2 is an unforgiving adventure RPG that rewards careful planning and strategy in combat while violently punishing those who lower their guard or try to simply muscle their way through dangerous situations. This is a game that isn't afraid to stab you in the back or wipe you out with a single strike, so don't go in expecting to breeze right through. Dark Souls II would sooner hack your hand off than hold it.
While questing through interconnected regions of this dark fantasy world, the settings, characters, items and even the enemies help flesh out the story of Dark Souls 2, painting a dark portrait of evil magics, legendary beasts and the folly of man. Now, with Crown of the Sunken King, that tale can be continued in a whole new region that has players on the lookout for one of three legendary crowns.
"Crown of the Sunken King features an entirely different world within the Dark Souls 2 universe, where stepped pyramids span a vast underground cavern and death lays in wait around every corner," reads today's launch announcement.
You can grab this first bit of DS2 DLC for $9.99, which is the same price you'll pay for the remaining two chapters of the Crowns trilogy. Otherwise, you could just drop $19.99 and reserve the lot of them. Your call.
And, just in case you need to get your blood pumping for Dark Souls 2 all over again, here's a little pep talk in trailer form…
Your Daily Blend of Entertainment News
Staff Writer for CinemaBlend.