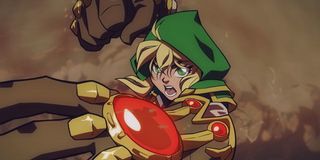 Darksiders creative director Joe Madureira and his new studio Airship Syndicate have launched their Kickstarter campaign for Battle Chasers: Nightwar. The crowdfunding sites gives us the first details on this brand-new project.
Battle Chasers: Nightwar is set in a medieval fantasy world divided by a giant wall of mist called the Grey Line. Many have ventured into the mist and never returned. After the hero Aramus crosses the mists, his daughter Gully and several companions set out to find him.
Airship Syndicate describes Nightwar as a JRPG-inspired adventure with cavernous dungeons and turn-based combat:
Players will start in the town of Harm's Way, where they'll choose a party of three heroes and equip items and abilities. Then they'll explore the overworld, said to be filled with random encounters such as hidden dungeons and rare bosses. The dungeons, filled with puzzles and monsters, have randomized layouts to increase replayability.
The story isn't a linear journey. Instead, players move the plot forward by finding lore on items and landmarks throughout the world. This lore also allows players to upgrade their character's abilities.
The game is based on the Battle Chasers comic book series, also created by Joe Madureira. The series originally ran from 1998 to 2001, but Airship Syndicate plans to release a fresh run to coincide with the game's release. Perhaps as a nod to Nightwar's comic book roots, the key cutscenes in the game will be 2D animations.
Airship plans to release Battle Chasers: Nightwar for PC and Mac via Steam and GOG. PS4 and Xbox One versions will two stretch goals for the Kickstarter campaign. They're shooting for a December 2016 release.
Many of the members of Airship Syndicate were originally part of Darksiders developer Vigil Games. Vigil shut down in 2013 along with THQ when the latter went bankrupt. The rights to the Darksiders series were later purchased by Nordic Games.
Although Battle Chasers isn't connected to the Darksiders series, there will be a small part of that franchise in Nightwar. Everyone who backs the game on Kickstarter will receive a weapon skin that turns a sword into War's Chaoseater from the first Darksiders.
Image 1 of 3
Your Daily Blend of Entertainment News
Staff Writer at CinemaBlend.