Darksiders 2 PS4 And Xbox One Remakes Announced, Darksiders 3 Teased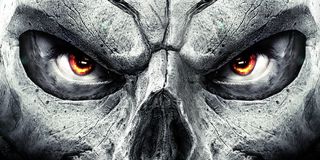 Darksiders 2 is coming to PS4 and Xbox One. Publisher Nordic Games confirmed the rumored remake, dubbed the Darksiders 2 Deathinitive Edition, will be out this winter on both consoles.
The remake is being developed by Gunfire Games, founded by many members of Darksiders 2's original creators Vigil Games. They're updating the game so it runs at native 1080p resolution. Players can expect the environments and characters to both look sharper. The lighting has likewise been improved.
"This isn't a simple port," Gunfire Games said on their website. "We've put a lot of time to improve both the visuals and gameplay to make it on par with current releases. It's been fun adding more polish to a game that is near and dear to our hearts."
The PS4 and Xbox One remakes also include the following DLC, which add hours of gameplay as well as plenty of loot:
Maker Armor Set
The Abyssal Forge
The Demon Lord Belial
Death Rides
Angel of Death
Deadly Despair
Shadow of Death
Mortis Pack
Rusanov's Axe
Van Der Schmash Hammer
Fletcher's Crow Hammer
Mace Maximus
Darksiders 2, if you're not aware, is a hack-and-slash starring Death. Players control this Horseman of the Apocalypse as he tries to save humanity and his brother, Darksiders 1 hero War. As War, as they can explore the open-world on horseback and then delve into dungeons filled with puzzles and enemies.
Vigil Games closed its doors along with its parent company THQ in 2013. Nordic Games purchased the Darksiders license shortly afterward. Nordic said in today's announcement that a third Darksiders game will be arriving sometime after the remakes.
"We took over the franchise roughly 2 years ago and thought about the next chapter for Darksiders ever since then," said Reinhard Pollice, Business & Product Development Director at Nordic Games. "Naturally (and extremely excitedly!), there will be a large-scale project based on Darksiders, but for now it is very important for us to take care of the existing games and make those available to a broader audience."
"Bringing Darksiders 2 to current gen was a logical step for us and the team at Gunfire Games know their trade inside-out, so we easily and quickly had lots of ideas that we wanted to realize for this specific edition."
Image 1 of 3
Your Daily Blend of Entertainment News
Staff Writer at CinemaBlend.