DayZ Helps Arma 2 Rack Up More Than 300,000 In Sales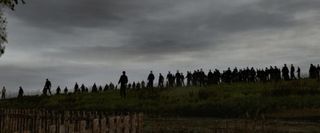 Arma II has been on Steam's Top 10 weekly charts since early May. The game hasn't had a discounted sale until yesterday, June 30th at TopWare Store [via Blues]. The remarkable thing about it is that without any marketing promotion or viral campaign schemes, the zombie apocalypse mod, DayZ, has helped boost Arma II's sales up to 300,000 since May.
The DayZ website points to more than 330,000 unique players, with an average lifespan of 31 minutes.
The other remarkable thing about DayZ, which is a community designed mod with help from former Bohemia Interactive contractor Dean "Rocket" Hall, is still only in its alpha stage. That's right, the mod is only in its alpha stage.
According to Hall, there are big plans for the mod, though, and he envisions the game eventually turning into a serious, zombie survival experience similar to MineCraft, something he briefly talked about while trying to survive zombies in an interview with Total Biscuit.
Right now, the biggest draw to the mod and Arma II is that the game is very realistic. You can break body parts, you can bleed out, you can be infected, you can pass out, you have to eat regularly, you have to drink regularly, body temperature plays a part in survival and of course, other players are more than likely to murder you and take your gear than to help you survive. It's as much a tense ride into what a potential zombie apocalypse would be like as it is a showcase of how people will respond, and oftentimes people respond as if you knocked on their door holding a brown bag full of stink and immediately react with the most violent forms of hatred imaginable.
Still, the game's intensity and horror-survival mechanics has made it one undeniably fun ride that a lot of people want to try for themselves. The game has continued to push Arma II onto Steam's Top 10 week after week for the past two months and I imagine things won't slow down so long as new updates keep arriving and the mod heads closer to beta.
You can learn more about DayZ and Arma II by visiting the Official Website.
Your Daily Blend of Entertainment News
Staff Writer at CinemaBlend.