DayZ Standalone Cooking System Detailed, Development Team Doubled In Size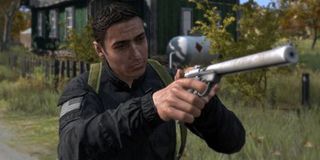 DayZ Standalone's development team has begun work on a cooking feature for the survival game. In a new blog post, Bohemia Interactive explained what cooking will be like in the zombie apocalypse and also gave a progress report on other features.
"Heavily inspired by the outstanding cooking system in Project Zomboid, this will be part of a wider push in March to focus on Survival aspects of the game in general," Bohemia says on their official Tumblr page. "You will turn your cooking device on (fireplace/stove) and then place the items in it. The items will slowly heat up, and when at the required heat for the required period of time, they will become 'cooked' and/or turn into something else (such as soup).
Food can also get overcooked so you can't just leave food on the fire forever. Items left sitting too long after being cooked will turn cold. The development team hasn't completely figured out how this will work, though.
This week the animation team introduced some missing animations for two-handed melee attacks, evades and other actions. They also created a reload animation for the Ruger MKII, a stab attack for the pitchfork and new zombie movements. These animations still have to be polished but the development team expects to release them later in March. Other bugs and glitches are also being tackled.
Bohemia is working on a new way of updating the game as well.
"We now have a new system we are testing internally for sending guaranteed updates across the network. This is very important as we believe this will reduce the problems for those who are experiencing severe desync. We are still testing this internally, and it will be sent out to experimental for more testing next week."
Earlier this week, DayZ creator and designer Dean Hall announced that he would be leaving Bohemia at the end of 2014. This no doubt made quite a few DayZ owners nervous, as the game's still in alpha. However, the project won't be abandoned because of Hall's departure. Bohemia's actually expanding development. The DayZ team has doubled in size according to today's blog post.
The next official patch for DayZ will be version 0.37. The update should be deployed during scheduled maintenance on March 5th. The patch notes will be released on the same day.
Bohemia will share the roadmap for DayZ's 2014 development soon. In the meantime, they provided a few screenshots. One of them shows the user interface for cooking.
Image 1 of 3
Your Daily Blend of Entertainment News
Staff Writer at CinemaBlend.