Defiance Invades PC, PS3 And Xbox 360 Today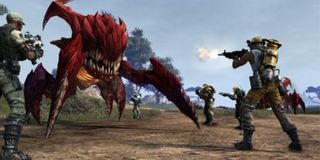 Today is the day Sci-Fi nerds and shooter fans have been waiting for, doubly so if you happen to belong to both groups of fandom. Trion Worlds' third-person shooter MMO is finally here, meaning that Ark Hunters the world over can finally gear up and step into the open world of Defiance.
Defiance is an odd creature, really. As stated above, it's a third-person shooter MMO, featuring all of the loot, missions and cooperation you would expect out of an online title coupled with the badass gear, guns and chaos of an over-the-top gunstravaganza. That alone does a pretty good job of setting Defience apart from the pack. Add in the fact that the game is a companion product with an upcoming Syfy show and that the stories taking place within each will directly impact the other, and now you see that we're really starting to play a whole different ballgame here.
Even more surprising is the amount of advertising and media we've seen leading up to Defiance's launch. Few games seem to get decent ad campaigns these days and, for the past month or so, Defiance has been everywhere you look. From TV adverts to full pages in magazines, banners on websites to all sorts of trailers, developer diaries, background info, screenshots and promotional games, it looks like Syfy might be putting all of their hype eggs into a single basket.
And really, from what I've played of the beta, they've been pushing the game for good reason. Defiance is a very competent shooter taking place in an intriguing world with lots of fun activities to take part in. The developers seem devoted to making the game a winning experience and the promise of patches and continuous updates means that this series really could have some legs. I've been eager to get in on the ground floor of something big, an experience I could really sink my teeth into, and Defiance might very well be what I've been waiting on.
To try it out for yourself, well, the wait is over. Defiance is available today for PC, PS3 and Xbox 360.
Your Daily Blend of Entertainment News
Staff Writer for CinemaBlend.