Destiny The Dark Below Expansion Includes Free Content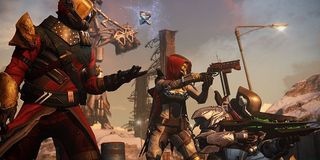 Many Destiny players may not be willing to pay money for the first expansion pack, "The Dark Below." Thankfully, the expansion will bring new content even if you don't spend a dime on it.
All players will be able to access new bounties each day. They'll also have five extra slots for these bounties, bringing the total limit up to 10. I'm really excited for that change because it was way too easy to fill up the initial 5 slots between PvE and PvP challenges. The extra slots will make it easier to pursue long-term goals with both Strikes and Crucible matches.
"The Dark Below" will also introduce new weapons and armor for free. The additions will include both Legendary and Exotic gear.
"We promised to make all of your Exotics worth the price of ownership, and you should expect to hear more about how they'll continue to be prized possessions in the short term future," Bungie said in their Weekly Update. "Stay tuned!"
Bungie said earlier this month that they want players to feel that Exotics are a worth reward for completing the game's hardest challenges, such as raids. These weapons will be effective in PvP as well, though Bungie wants to avoid making them too powerful.
Should you decide to ultimately buy "The Dark Below," you'll get access to the following new content:
3 Story missions featuring new enemies and encounters in the Cosmodrome and Moon
Tower Character and Vendor, Eris, featuring new Quests, Bounties, and rewards
Exclusive Legendary Weapons and Armor
New Exotic Weapons
"Will of Crota" Strike
"Crota's End" Raid
3 Crucible Maps: Pantheon, Skyshock, and The Cauldron
Maximum Light Level increase to 32
The PS4 and PS3 versions will also get access to an exclusive cooperative Strike called "Undying Mind." This mission will remain a PlayStation exclusive until at least Fall 2015.
The story of "The Dark Below" revolved around Crota, the deity of the Hive. The Hive are trying to resurrect Crota so they can wipe out mankind. Bungie will be telling this new storyline in a different way than the main campaign of Destiny, perhaps due to the criticism that the game's story-telling received.
"Quests are a new storytelling mechanism that we're using in the Dark Below. They are multistage tasks that culminate in a reward, similar to the Exotic Bounties you may have experienced. Unlike Exotic Bounties, the Quests in the Dark Below can be completed by players who are solely focused on the cooperative story content of The Dark Below."
"For example, one Quest creates a continuous chain of multiple tasks that culminates in the "Will of Crota" Strike. Another may simply ask you to return to Earth to take down the surging Hive threat."
Bungie will release "The Dark Below" on December 9th for $19.99. The $34.99 Expansion Pass gives players access to "Dark Below" along with the next expansion, "The House of Wolves."
Your Daily Blend of Entertainment News
Staff Writer at CinemaBlend.
Your Daily Blend of Entertainment News
Thank you for signing up to CinemaBlend. You will receive a verification email shortly.
There was a problem. Please refresh the page and try again.