Destiny House Of Wolves Release Date, Next Patch Are Weeks Away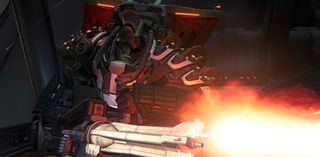 Bungie has some big April plans for Destiny. They plan to share the release date for new expansion House of Wolves and release the big pre-Wolves patch.
"The next expansion for Destiny is something we're really looking forward to talking about," said Bungie's David Dague in the Weekly Update. "This month, there will come a day when we'll reveal a release date for the trials that await you, with a whole reef of details soon to follow – but it is not this day."
"Reef" is an interesting choice of word. That seems like a reference to the rumor that House of Wolves will add a new social area set in the Reef. Bungie has yet to confirm or deny that feature yet.
Before Bungie releases House of Wolves, though, they need to implement Update 1.1.2. The company previously said that 1.1.2 would be the last major patch before Wolves. Dague mentioned in the new Weekly Update that the patch is due in "a couple of weeks."
Update 1.1.2 will add audiovisual options and expand player vaults. According to the new Weekly Update, the patch also fixes some lingering issues with the existing Raids and Strikes. In the case of Raids, Bungie is prioritizing bugs with end-bosses Atheon and Crota to make those encounters more enjoyable.
"The Raids have some of the most edge-casey content in the game, so the bugs can get really tricky," said activities engineer Sean Chan. "For example, we had a bug where players weren't doing damage to Minotaurs with the Relic shield. Turns out that the complicated hit test we use to detect a melee hit just missed the combatant because of the long-legged shape of its body. Some of these bugs were truly baffling, but we dug deep and went to great lengths to improve things."
With Strikes, Destiny players are facing a different issue: some are much harder than others. Bungie studied player data and noticed that certain Strikes took much longer to complete. There's a higher percentage of players abandoning these missions as a result.
"The Cerberus Vae III Strike is arguably the longest and hardest Strike in the game," said user research lead John Hopson. "It has one the lowest completion rates of any of the Strikes. Even when players complete it successfully, it takes longer than almost any other Strike activity at 27 minutes on Normal difficulty. When it's appeared as the Nightfall, it's actually had the lowest completion rate of any Strike activity in the game.
"The Dust Palace Strike isn't quite as hard, but it still takes longer to complete successfully than the average Strike at 23 minutes on Normal difficulty."
Bungie has decided to make the Strikes more consistent in their difficulty by nerfing the harder ones. They accomplished this mostly by weakening the final boss encounters. For example, Cerberus Vae III end boss Valus Ta'Aurc will have a third less health. The development team is hoping that's enough to encourage players to stick with these Strikes until the end.
Your Daily Blend of Entertainment News
Staff Writer at CinemaBlend.
Your Daily Blend of Entertainment News
Thank you for signing up to CinemaBlend. You will receive a verification email shortly.
There was a problem. Please refresh the page and try again.