Destiny's Next Patch Adds New Options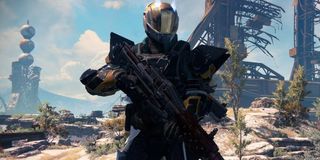 Bungie said previously that Destiny's Update 1.1.2 will introduce new audio and video options for the game. Today they revealed exactly what these new settings will be.
Once the patch is live, players will be able to adjust the volume of voice chat. The Game Volume option, meanwhile, lets you adjust the dialogue, sounds, effects and music at the same time. Game volume goes up to 100% while chat volume can go up to 125%, which should make it easier to coordinate during raids.
"Audio settings were something that people would ask for pretty frequently, so I approached the audio team to see what tools we could use to give some control to our players," said user interface engineer Daniel Hanson in the Weekly Update. "With some fresh engineering, it became possible to expose their existing controls as new game settings. I feel very strongly about improving our player experience, and I was glad to have the opportunity to provide something extra to our community."
If you'd rather not listen to the soundtrack, you can mute it altogether. However, Bungie's head of audio Jay Weinland said that there's an extra incentive to keep the music on.
"To prove again that Destiny music can also enhance the time you spend with your friends, we've added a fun little audio Easter egg to the game. It'll be in there, somewhere. Once the update is live, see if you can find it."
On the visual side of things, Bungie will be adding options to accommodate colorblind players.
"Adapting the existing user interface to support various color blind modes turned out to be a fairly complex challenge, but we managed to build a flexible toolkit for our designers that helped them do just that with minimally-invasive surgery and no negative impact to existing functionality," said Bungie's Brad Fish. "I'm extremely excited for players to get their hands on this!"
Players will be able to choose between these modes:
Standard Mode: This is how most Destiny gamers see our world. Differences between loot and enemy shields are apparent to anyone with an eye for detail.
Simulated Dueteranopic View: This most-common colorblind spectrum is how some players see the world of Destiny. The lack of color variance means less feedback as to which loot to grab or which weapons to wield.
Dueteranopia Mode: Once Update 1.1.2 is applied, colorblind gamers will see higher contrast to provide better cues to detect the differences.
Update 1.1.2's other changes include bug fixes for Vault of Glass and Crota's End and tweaks for ammo crates in the Crucible. Bungie will also be expanding players' vaults in the patch. At the end of this Weekly Update, Bungie suggested we'll find out more about the vault expansion next week.
This patch will be the last before second expansion pack House of Wolves arrives. Wolves is slated to launch between April and June.
Staff Writer at CinemaBlend.
Your Daily Blend of Entertainment News
Thank you for signing up to CinemaBlend. You will receive a verification email shortly.
There was a problem. Please refresh the page and try again.