Destiny PS4 And PS3 Trailer Shows Off Exclusive DLC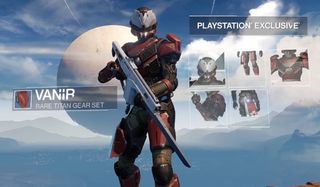 Destiny's PS4 and PS3 versions will both have exclusive DLC. A new trailer from Sony highlights this bonus content.
PS4 and PS3 owners will get two extra weapons for their arsenal. The Hawkmoon is a hand cannon with a silver barrel etched with feather patterns. The first upgrade gives one random bullet in each magazine a chance to deal bonus damage. The next level of upgrade gives this extra damage to three bullets.
The other PlayStation-exclusive weapon is the assault rifle Monte Carlo. When upgraded, the Monte Carlo is a strong close-quarters option. It will have increased hip fire effectiveness and will reduce your melee cooldown each time it deals damage.
Destiny on PS3 and PS4 come with bonus armor sets too. Warlock, Hunter and Titan players each get their own armor with distinct appearances and stat bonuses. We've seen these sets in screenshots before but the trailer give us a closer look.
The last bits of exclusive loot for PlayStation gamers are ships. The "Aurora Wake," "Crypt Hammer," and "Outrageous Fortune" are about the same except for their paint jobs and name. They give you a way to look different from your friends while you're flying to your next mission, though.
Bungie even gave PS3 and PS4 owners a couple exclusive activities. The Dust Palace is a co-op Strike set on the planet Mars. Players will battle the Cabal and encounter Psion Flayers for the first time. Competitive players can head to Exodus Blue, a medium-size Crucible map centered on a wrecked spaceship. Bungie said previously that this map "pairs perfectly with Control and Skirmish modes."
Xbox One and Xbox 360 players will be able to get all of this bonus content in time. However, they're going to have to wait a long time. The DLC will be exclusive to PS4 and PS3 at least until Fall 2015.
PlayStation gamers have been pampered quite a bit by Bungie. This summer, they received access to an exclusive alpha test. Then they got extra days with the multi-platform beta. On top of all that, they'll be able to buy the game along with a white PS4 next month.
Destiny will debut on all platforms on September 9th. Gamers can begin playing before launch day in some territories, though.
This poll is no longer available.
Staff Writer at CinemaBlend.
Your Daily Blend of Entertainment News
Thank you for signing up to CinemaBlend. You will receive a verification email shortly.
There was a problem. Please refresh the page and try again.