Destiny Patch 2.0 Takes Up Huge Amount Of Hard Drive Space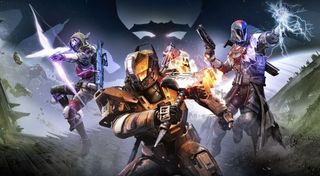 Bungie is already rolling out steps and tips for players as they prep for the massive The Taken King expansion that will mark year two for Destiny. Dubbed patch 2.0, there are tons of new features being added to the game and it will take up a massive 18GB.
The news was made over on the official Bungie website during the weekly update. The post explains that when September 15th rolls around they want to make sure that everyone is prepped for the release of the expansion.
They explain that the Destiny player support will be out in full force to help those make the transition into the new content...
They make it known that the most important thing to keep in mind with the new Destiny expansion is that you need at least 18GB free on your hard drive for the installation.
Yes, patch 2.0 or The Taken King is a massive beast.
PlayStation 3 and Xbox 360 owners were also given a heads-up about storage capacity as well. It was made known that both PS3 and Xbox 360 owners should have at least 10GB free just to get started. Xbox 360 owners can get by with 10GB free, where-as PS3 owners will need 20GB free. After downloading the game on PS3 you will need 10GB free for The Taken King to install.
If you're an owner of a PS3 or Xbox 360 with only a 20GB HDD, you won't be able to run the new expansion. You'll need to upgrade to a much larger hard drive to download and install the game. The upside is that according to the weekly update, Bungie mentions that upgrading to a new hard drive will allow you to automatically move over all your character data and stats without any troubles.
The Taken King being as big as it is almost comes as no surprise. Games these days are quite large and if you're into the all digital future then you really need a strong broadband or fiberwire connection to make the most of said "all digital future". Otherwise you'll have to contend with slow speeds, capped bandwidth margins or overage charges.
Both Sony and Microsoft have slowly been fitting the new Xbox One and PS4 units with 1TB hard drives to be able to hold all the relevant data that many AAA games require these days. For games like Grand Theft Auto V it's easy to burn up 60GB alone on that game. And as more expansion packs release for Destiny that game will easily breach the 100GB margin soon enough.
For now you'll just need 18GB free for Destiny's upcoming release of The Taken King. If you have that free then you should be able to run the expansion without any problems.
You can look for patch 2.0 to drop soon enough so that gamers will be ready for the September 15th release of The Taken King.
Staff Writer at CinemaBlend.
Your Daily Blend of Entertainment News
Thank you for signing up to CinemaBlend. You will receive a verification email shortly.
There was a problem. Please refresh the page and try again.