How To Earn Destiny: The Taken King's VIP Rewards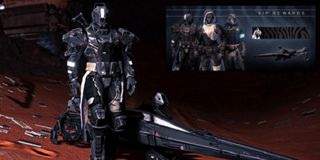 Destiny's first year will soon draw to a close and, in celebration, Bungie has put together a collection of VIP rewards for Guardians who have been fighting the good fight. Thanks to a recently released trailer, we now know what those rewards look like, as well as how we will receive them.
The Taken King is due to arrive on Sept. 15, meaning Destiny fans have about three weeks to prepare for the arrival of Oryx. In case you haven't been paying attention, that's the father of Crota; You know, that giant space dude you murdered with his own sword? Turns out daddy isn't too pleased by that, so he and his army of altered alien races are going to stop by Earth to have a few words with you.
Thankfully, you'll be dressed for the occasion, as a bunch of year one rewards will be available for grabbing as soon as The Taken King ships.
We've known for a while now that Bungie planned on rewarding folks who have been with Destiny for the long haul. One of those rewards is a special emblem you can get by completing 10 challenges within the game. The guidelines for receiving the VIP awards, though, are a little different. Basically, you need to achieve level 30 with any one Guardian or have purchased the previous two expansions, The Dark Below and House of Wolves, by Aug. 31 of this year. Then, when you buy The Taken King, you'll find all of your new loot spread across the Tower.
Said loot includes everything you need to make the year two crowd feel jealous. There's a Brave Ghost Shell, which will make your robotic companion look spiffy in brown and yellow. A Be Brave Emblem is also up for grabs, which looks an awful lot like a tiger's head. The Old Guard Shader matches the Emblem in both color and design, decking out your Guardian with a black and silver tiger stripes. Finally, there's the S-34 Ravensteel Sparrow which, again, matches the Shader and Emblem in design. Hopefully it can spin like a Tumbler, too.
It doesn't look like you'll simply be handed these VIP rewards, though. As was recently revealed in last week's Destiny livestream, a new quest system is coming to Bungie's FPS. It appears you'll need to accept quests from a handful of vendors and then complete them to grab your rewards. If nothing else, that should actually serve as a nice introduction to the new system.
As you might have noticed, Bungie is ramping up its Destiny content in these final few weeks before The Taken King. Expect to learn even more about the upcoming sequel as the Sept. 15 launch date draws near.
Staff Writer for CinemaBlend.
Your Daily Blend of Entertainment News
Thank you for signing up to CinemaBlend. You will receive a verification email shortly.
There was a problem. Please refresh the page and try again.