Destiny Challenges Players With 10 Moments Of Triumph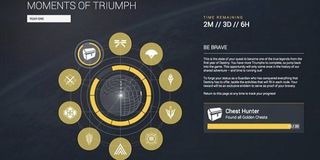 Today is Bungie Day and, to mark the occasion, the developer is kicking off several Destiny-focused activities and promotions to celebrate Guardians' first year of fighting against the darkness. One such event, Laurea Prima, will require players to pull off 10 "Moments of Triumph" to earn a special emblem.
Revealed over on the Destiny blog, the Laurea Prima is a one-of-a-kind emblem that will only be made available as part of this special promotion. In order to acquire this unique piece of swag and, with it, all of the usual bragging rights that come with such an achievement, you're going to need to tackle a handful of special objectives.
According to Bungie's DeeJ, this new emblem will help set apart Destiny's most dedicated first year players from all of the other riffraff moving forward.
"It's been a year of fun challenges for your Guardian to tackle – Crucible combatants to destroy, alien overlords to topple, and treasures chests to be plundered (and plundered again) out in the wild," reads the announcement. "Many moons from now, when we look back on year one, how will we know who among us charged head-long into the Darkness to conquer each and every threat?"
The answer, of course, is the Laurea Prima emblem. In order to receive it, Guardians will need to achieve the following goals by Sept. 9.
-Reach the max level of 34
-Defeat the dark heart of the Black Garden
-Prevent the summoning of Crota's Soul
-Capture Skolas in the Vex Citadel
-Defeat the Prison of Elders on Hard
-Defeat the Atheon on Hard
-Defeat Crota on Hard
-Complete 50 public events
-Win 100 Crucible Matches
-Find all Golden Chests
In order to keep up with your progress, simply head on over to the Moments of Triumph tracker and sign in to your PSN or XBO account. I'd be willing to bet that quite a few players have already achieved most of these tasks simply by playing the game for the past year. I'm missing a handful of them, personally, including the Golden Chests and the ones that require tackling Raids and the Prison of Elders on Hard mode. The chests should be easy enough to track down but, as for the others, a complete lack of matchmaking means I'm still struggling to find groups to play with.
Still, there are two months left until the clock reaches zero, so here's hoping I can figure something out between now and Sept. 9.
As for when you can expect your reward, the Laurea Prima emblem will be made available to those who complete the Moments of Triumph when The Taken King, Destiny's latest (Red Bull-infused) expansion, launches on Sept. 15.
Your Daily Blend of Entertainment News
Staff Writer for CinemaBlend.