Destiny Servers Going Down For Maintenance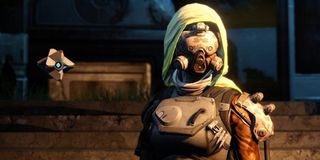 If you try to play Destiny tomorrow, you may be greeted by an error message. Bungie plans to take the servers offline for several hours in order to perform maintenance.
The maintenance will begin at 8 AM Pacific and run until about noon. That's only if "all goes according to plan," though. You may have to wait longer than that for the game to be playable again.
"This totally planned service outage will enable us to prepare for the arrival of a series of updates planned for the next few weeks," said Bungie community manager David Dague on the company's website. "During this time, you'll be unable to play Destiny. We're sorry about the interruption, but it's for the greater good."
"Once services are restored, your experience as a player will be unchanged. The updates we're making will be on our side, so you won't need to download or install a new batch of content. This work will help us pave the way for the progress that was foretold in the last Weekly Update."
Bungie announced a few days ago that the changes planned for the coming weeks include:
New shaders for your gear
Ways to preview items before you spend your Glimmer
Greater chances of "showers" in public spaces
Adjustments to some arenas that needed better traffic flow
New economies to equip you with upgrade materials
Fixes, patches, and other invisible technical evolutions
Some other tricks up our sleeve
Maybe even a more generous Cryptarch (he'll still be sort of a bastard)
They also plan to add new Exotic and Legendary gear for players to earn. New bounties will also be made available and the cap will be expanded to 10. When players jump into activities with matchmaking such as Strikes and Crucible matches, they'll finally be able to use voice chat with their teammates. The exact timetable for rolling out these features hasn't been detailed yet, though.
"We know you're anxiously waiting for all the good stuff we promised. This is the beginning of that work," Dague added. He recommends that players check their Twitter and forums for the latest news on their updates. You'll be able to check on the status of the maintenance there as well.
The big event of the holiday season for Destiny is the launch of expansion pack "The Dark Below" on December 9th. The expansion adds story missions, a co-op Strike, a raid, and three Crucible maps to the game. Players will be able to earn new rewards through all of these activities.
Over the next two weeks, players can earn the opportunity to play "The Dark Below" early. Players will be prompted with three Sweepstakes challenges, of which involving taking photos or short videos of your Guardian and then tweeting them to the official Destiny Twitter account. Three winners of the event will be invited to Las Vegas from December 5th to 7th to try out the expansion before everyone. The full details on the contest can be found here.
Staff Writer at CinemaBlend.