Destiny Iron Banner Event, Expanded Voice Chat Incoming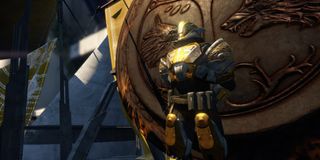 The Iron Banner playlist from Destiny's beta will be making its first appearance in the full game soon. It's one of two big things Bungie is promising for the future.
Iron Banner varies from other Crucible events in an important way: players' stats aren't equalized. Your offensive and defensive ratings will determine your actual damage and durability within competitive matches. That's great news for players who have been diligently collecting new gear since Destiny's launch.
Xander 99-40, the bounty vendor in the Tower, will offer new bounties related to the Iron Banner playlist. Completing these bounties will help you increase your rank with the Iron Banner.
Your rank, in turn, allows you to purchase items from Lord Saladin. Saladin will offer special shaders, emblems, and ships along with Legendary weapons and armor. While these wares are restricted by rank, you'll purchase them with regular ol' Glimmer.
The Iron Banner event will run from October 7th to October 14th. In the meantime, Bungie has brought back Salvage mode to Crucible. In that mode, two teams of three players fight for control of alien relics. Salvage will be available until September 29th.
The Queen's Wrath event is currently underway for players as well. Queen's Wrath brings a new vendor that sells rare weapons, emblems, shaders and class items. Completing the new bounties and level 24 missions give you access to Legendary gear such as the "Chasing Infinity" ship. This event will end on October 6th.
Bungie's been good about releasing a new event every few days. Although Iron Banner is the only event they've confirmed for October thus far, I'm sure that the developers will announce a few more soon. Presumably they'll bring back Combined Arms for another weekend.
In the latest Bungie Update, the studio also promised another anticipated feature: expanded in-game communication. They want to protect players from griefing over voice chat. However, they also want to make it easier for players to coordinate. Their "near-term" plan to let players opt into voice communication during activities with matchmaking such as Strikes and the Crucible.
"Near-term is not now. Near-term is more like soon," they said of the potential release date for this change.
The matchmaking voice chat won't be part of the next patch. Instead, Patch 1.0.2 will focus on improving the loot system. Engrams will be more likely to provide quality loot once that update goes live next week. It's an essential fix to make in the game now that the "loot cave" has been removed.
This poll is no longer available.
Staff Writer at CinemaBlend.
Your Daily Blend of Entertainment News
Thank you for signing up to CinemaBlend. You will receive a verification email shortly.
There was a problem. Please refresh the page and try again.