Destiny T-Shirt Commemorates Peter Dinklage Wizard Meme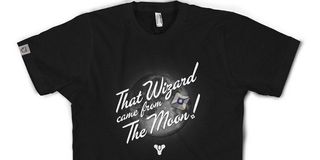 Bungie noticed that one of Peter Dinklage's lines from the Destiny alpha test has become an in-joke among many players. They've decided to celebrate the awful quote by creating a limited-edition t-shirt.
The quote I'm talking about, of course is: "That wizard came from the Moon."
It's not the most stunning piece of writing to begin with. Peter Dinklage's delivery is what ensured the quote's Internet infamy, though. He's a great actor but he performs this line with the enthusiasm of an SAT proctor reading test instructions. Yes, he's playing a companion robot but if Destiny futuristic society can invent a self-aware robot that flies, they can invent one that can put inflection on its words:
The t-shirt from Bungie is emblazoned with the quote, along with a picture of Dinklage's character. The background image is, of course, the Moon. The Bungie crest is woven into the sleeve. You can pick up the shirt in a variety of sizes for $24.99.
"Commemorate your first experience in Destiny with this totally wizard t-shirt," Bungie says of the shirt. "You played. You danced. You helped make Destiny better for every last one of us. Profits from the sale of this item will be donated to charity through the Bungie Foundation."
The Wizard from the Moon t-shirt only just went on sale yesterday but it's become a huge hit among Destiny fans:
Destiny's alpha test was held last weekend on the PS4. This test allowed players to sample every side of the game: the open-world exploration, co-op missions and PvP battles. The alpha was a huge event thanks to how many invites Bungie distributed. Bungie said that players killed over 195 million enemies over the course of the test. They also gave developers a whole lot of feedback to help them refine the game.
"We're learning and reacting and Destiny is going to be better because of it. You'll see the fruits of that labor as early as next month, assuming we're lucky enough to have you in our Public Beta."
I doubt they'll re-record the "Wizard came from the Moon" line. Bringing Dinklage in for another day of recording would just swell the enormous budget even further. If nothing else, though, we got a great t-shirt out of that badly delivered line.
Image 1 of 4