Destiny The Taken King Has Exclusive Red Bull Quest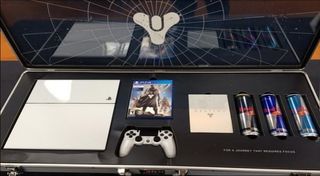 Activision, Bungie and Red Bull have teamed up together for a brand new quest for the first-person shooter Destiny. The quest will open the door for gamers to earn extra XP and rewards by purchasing specially marked Red Bull energy drinks and retrieving the code from the can.
All Games Beta posted the full press release of the news, indicating that this marks the first time that video game branded content would be appearing on a Red Bull drink.
Tim Ellis, the executive VP and chief marketing officer for Activision, chimed in with a few brief comments about the cross-branded deal, stating...
Red Bull and Destiny must be this generation's version Mountain Dew and Halo. Back during seventh gen the big media marketing go-to combo was Mountain Dew, Doritos and a big AAA video game. If it wasn't Halo then it was Call of Duty and if it wasn't Call of Duty it was Assassin's Creed.
I do wonder with Red Bull getting very serious about their eSports efforts if they will continue to branch out and make branding deals with more top-tier gaming franchises?
And speaking of eSports... the energy drink company is teaming with eSports organization OpTic Gaming and Destiny expert Michael "Flamesword" Chaves. What role will Chaves play in this whole ordeal? Well, he'll be helping guide players through this cross-branded quest for Destiny.
According to the eSport athlete, Chaves stated...
The whole campaign will get underway this July, with the special Destiny branded cans being made available at 7-Eleven stores. Starting in August the cans will be available at more retail outlets to coincide with the launch of the expansion The Taken King. It should also be noted that the leaks about Red Bull and Activision teaming appears to have been entirely true.
In addition to this, Walmart will get exclusive four-pack Red Bulls with special mega XP accelerators leading up to the launch of The Taken King.
The whole cross-branded thing will likely keep diehard fans of Destiny thrilled and excited leading up to the launch of the new expansion pack. For everyone else it's just another day in the Mountain Dew and Doritos-style marketing camp we've been used to since the early days of Halo. You can learn more about the new campaign by heading on over to the official Destiny website.
Your Daily Blend of Entertainment News
Staff Writer at CinemaBlend.