Destiny Inferno Playlist Coming Next Week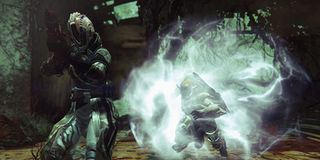 Destiny's player-versus-player is about to expand. Bungie plans to add a new Inferno playlist to the Crucible in a matter of days.
The Inferno playlist strips away some of the features of the game to deliver a more hardcore experience. There are very few ways to score outside of kills or capturing objectives. Getting kills will be harder because there's only one heavy ammo crate per match and opponents won't drop any. There's also no radar.
"We're removing the Tracker that warns you of nearby opponents. We're hoping this change will provoke players to rely even more on certain skills like map knowledge, teamwork, good positioning, successfully flanking opponents, using jumps to set up ambushes, catching audio cues like footsteps, and using friendly nameplate UI as clues toward enemy position," said senior designer Leif Johansen in Bungie's new Weekly Update. "Lack of Tracker should also indirectly reduce the effectiveness of Supers and Heavies, and make the mode more about basic gunplay."
Inferno is limited to Control mode at first. Capturing the territories throughout the map will take less time than usual. However, it's also riskier because converting an objective gives away your position to the other team. That was always the case but the lack of radar means that enemies will be more likely to notice when a control point is slipping from their grasp.
The Inferno playlist will use 10 maps. Johansen said that a few larger battlefields were excluded so that players could find targets more quickly. Here's the list of maps in the Inferno rotation:
The Anomaly
Firebase Delphi
Twilight Gap
Rusted Lands
Shores of Time
Blind Watch
Asylum
The Burning Shrine
The Cauldron
Pantheon
Bungie says that Inferno Control will be available for one week, starting on March 3rd. It will return periodically, though, just like Iron Banner or Doubles Skirmish.
"To kick off the festivities, a few of our most aggressive players are forming a dream team for a Bungie Bounty. They're practiced up on the new rules, and most of us refuse to enter matchmaking with them, so this promises to be anything but a cake walk."
I'm glad that Bungie is trying out new playlists for PvP because otherwise the wait for the House of Wolves expansion would feel even longer. House of Wolves, due this spring and by the time it arrives, players will probably be sick of the current selection of Strikes and Raids. If Bungie doesn't plan on releasing any PvE content for the game before Wolves, Crucible additions and enhancements are the only way to keep players' attention.
Even outside of the new playlist, Destiny's player-versus-player action has undergone a lot of changes. A new patch released earlier this week made sweeping changes to the game's weapons. The most popular weapon classes were taken down a peg while the seldom-used ones were given a boost. This week's patch also fixed a long-standing bug that was removing heavy ammo from players' inventories.
Staff Writer at CinemaBlend.
Your Daily Blend of Entertainment News
Thank you for signing up to CinemaBlend. You will receive a verification email shortly.
There was a problem. Please refresh the page and try again.