Deus Ex: Mankind Divided Collector's Edition Contents Will Be Decided By Fans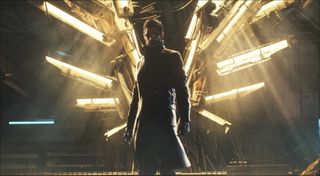 A lot of companies always want to sell you limited edition content that they think you might want. Bethesda managed to nail it perfectly with the real life Pip-Boy that managed to sell out pretty quickly. For Deus Ex: Mankind Divided Eidos Montreal and Square Enix are letting you choose what comes in the Collector's Edition.
Over on the official Deus Ex website there's a list of 10 items that gamers can choose from. They want you to choose the items in order from most wanted to least wanted and they'll use that data to gauge what people really want in the Collector's Edition of the game when it finally preps for launch.
The items available for gamers to select from are listed below.
To be honest, there are some really neat items eligible to be included in the Collector's Edition.
My favorite would be the mini-replica weapon set that features some of the famous weapons featured in the Deus Ex: Mankind Divided game.
It's pretty cool because the awesome shotgun that Jensen was using in the gameplay demonstration video is one of the replicas that players will have as part of the replica. It's cool. Alternatively there's a single replica assault rifle from both Mankind Divided and Human Revolution, capturing all the detail and nuances of the weapon.
If you're not into guns that's fine and dandy, but then you probably would be all too interested in an action-packed statue of Jensen dynamically running. It's a cool looking statue but I don't know if it trumps the mini-replica weapon stand.
If you want Jensen without the glorification of armed weaponry in his hands, you can select the Adam Jensen bust. The sculpture aims to gather every single detail of the augmented agent from the Deus Ex series.
The most odd thing on the list is probably the lunch box. I can't imagine anyone showing up to college with it but the fact that it has "Praxis Kit" printed on the side and actually looks pretty high-tech might make it a bit more than just a collectible item.
On the line of wearable accessories there's also a pin set featuring different Deus Ex themed pins you can place on your clothing or backpack or whatever. If you want to take it a step further you can can also get a tattoo sleeve. The sleeve combined with some high-tech gloves would possibly make people who aren't paying attention actually think you walk around with augmented arms.
The art book and steel book are also two neat items that definitely deserve to be included as collector's items... the art book especially. The one thing I don't quite understand is the metal sign that says "Welcome to Hell". That seems like a pretty lame collector's item but hey, some people might think it's sexy.
You can vote for what you want included in the Collector's Edition of Deus Ex: Mankind Divided, which is due for release on the PC, PS4 and Xbox One by visiting the official website.
Staff Writer at CinemaBlend.
Your Daily Blend of Entertainment News
Thank you for signing up to CinemaBlend. You will receive a verification email shortly.
There was a problem. Please refresh the page and try again.