Deus Ex Developer Mocks Call Of Duty: Black Ops 3 Trailer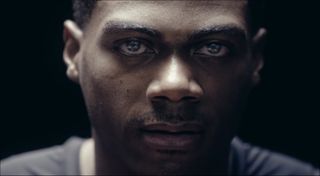 The recent teaser trailer for Call of Duty: Black Ops 3 created a lot of buzz about the game due to its themes and topics. One of the common comparisons, though, was that the game was very similar to Eidos Montreal's Deus Ex games. Well, the Deus Ex devs managed to get some laughs out of the gaming audience at the expense of Black Ops 3.
Over on Twitter when the Call of Duty Twitter account posted the trailer to Black Ops 3, the Deus Ex Twitter account responded with the following message.
The jab at Call of Duty comes from many of the close similarities of topical matter that Deus Ex: Human Revolution and Deus Ex: Mankind Divided cover; namely the controversial subject matter of whether or not augmented humans should be granted certain liberties under specific civil and military conditions. The Black Ops 3 trailer teased possibilities such as augmented Olympians or cybernetically enhanced sports stars. With a lot of public debate currently raging over human growth hormones and performance enhancing drugs, it's not a leap to see people getting up in arms about sports stars using artificial limbs or other body parts to increase their efficiency on the field, the court or in the ring.
However, Call of Duty: Black Ops 3 goes a step further... closer into the Deus Ex territory with the augmented soldiers, utilized as programmable, remote weapons.
Some gamers may remember that a key sub-plot in Deus Ex: Human Revolution centered around the neurological control over augmented individuals to get them to carry out tasks or behave in a specific way using a master control program. The idea that Black Ops 3 is dabbling in the remote soldier control territory instantly had a lot of people drawing comparisons to Deus Ex quite naturally. However, I'm a little more shocked that they didn't compare Treyarch's newest game with Hideo Kojima's Metal Gear Solid 4. The whole theme of the game basically boiled down to mind-controlled soldiers fighting for the sake of fighting.
While the Deus Ex mockery is quite funny, and the Twitter responses are all kind hilarious to read, I'm more in the camp of gamers willing to see what Call of Duty: Black Ops 3 has to offer before entirely writing it off. Besides, if the game really does delve deep into cyberpunk subculture, there's no way I'm going to be able to ignore it. Activision is known for putting a lot of money into the campaign scope and story of each Call of Duty game, but they don't always deliver. So I'm hoping that this time around we can see something that diverges a bit more from the beaten path.
Treyarch has definitely stepped outside of the box before with the first two Black Ops games, so we'll see how far they diverge from the typical formula with the upcoming release of Call of Duty: Black Ops 3.
Staff Writer at CinemaBlend.
Your Daily Blend of Entertainment News
Thank you for signing up to CinemaBlend. You will receive a verification email shortly.
There was a problem. Please refresh the page and try again.