Diablo 3 Patch 2.4 Will Introduce Set Dungeons, Empowered Rifts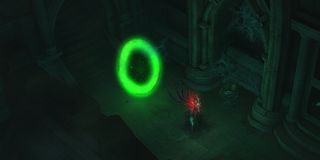 Diablo 3's Patch 2.4 will be hitting the Public Test Realm soon. This update is going to bring some major changes to the action RPG.
Players who have assembled full item sets will have new challenges to overcome in Patch 2.4. Once you're wearing a full class set, the game will point you toward an exclusive dungeon. These dungeons have non-randomized layouts and will test your command of your class. If you complete the adventure, you'll earn new cosmetic rewards. Blizzard said that there will be extra incentives for hardcore players that beat every item set dungeon for their class. The slim minority that decides to beat all 24 item set dungeons in the game will likewise get a reward.
The richest players, meanwhile, will have a new activity to spend their money on. When you enter a Greater Rift, you can spend gold to make it an Empowered Rift. This boosts the number of potential Legendary Gem upgrades you can earn at the end. Blizzard didn't say exactly how much Empowered Rifts will cost but did mention the price will scale up based on the tier of Greater Rift.
Blizzard is also expanding the game world in Patch 2.4. Adventure Mode will introduce Greyhollow Island, a zone available through the Adventure Mode:
Two existing regions in the game world are also being fleshed out. Outside the Ruins of Sescheron, players will find the Eternal Woods. This forest is crawling with the undead but also plenty of new bounties and events. The Royal Quarters next to Leoric's Manor in Act 1 will give players further insight into the Skeleton King's pre-skeleton life in addition to new targets for your aggression.
Blizzard's obviously adding a bunch of new loot in the patch as well. There will be over forty new Legendary powers to unlock in 2.4. These powers will be obtainable through new and existing items. All of the class sets in the game are getting reworked in some way so they'll be desirable. The Crusader class, meanwhile, can look forward to a new flail-and-shield set. You'll have ways to unlock more stash space as well to hold all this loot.
If you're playing the PC/Mac version of Diablo 3, Patch 2.4 will give you some extra features. The Season Journey, a set of challenges for Seasonal players, will now provide you with a special collection of set items called Haedrig's Gift. You're guaranteed a full item set for your class if you finish the first four chapters of the Season Journey. Season Rebirth allows you to re-use a character from a previous Season by stripping all of their gear and reducing their level to 1. This stripped gear will then be mailed to you between Seasons.
PC gamers will also be receiving some updates to the combat to bring them in line with the console edition. The new Action Combat system brings some different bonuses for killing sprees:
Blizzard didn't provide a release date for Patch 2.4. However, they say it will hit the Public Test Realm in a matter of weeks.
Your Daily Blend of Entertainment News
Staff Writer at CinemaBlend.
Your Daily Blend of Entertainment News
Thank you for signing up to CinemaBlend. You will receive a verification email shortly.
There was a problem. Please refresh the page and try again.