Diablo 3 Sports Co-op Play In Offline Mode For PS3, PS4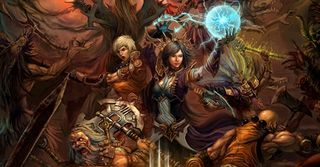 While it hasn't been clarified if the single-player portion of Diablo III can be experienced in offline mode, it has slipped from Blizzard's John Hight that console gamers will be able to experience Diablo III's co-op couch play without having to always stay connected to the internet. I guess miracles do happen.
CVG spotted the partial quote from an interview on GameTrailers, where Hight noted that...
This was partially hinted at during the PlayStation 4 reveal last week, when Diablo III was officially announced for the PlayStation 3 and PlayStation 4.
As some of you might remember, there were two big controversies that really hampered the experience of Diablo III...the Real-Money Auction House and the always-on DRM. If neither of those two features make it onto the console rendition of the game then maybe, just maybe Diablo III can recover its reputation and cement a decent legacy for itself...on consoles anyway.
Blizzard has mostly been tight-lipped about the game, for now, but I imagine we'll learn more about the important features for the console version of Diablo III when E3 draws near.
For now you can pantomime your response at your monitor, whether it be nonchalance, rage or ebullience regarding Blizzard's decision to effectively take a nice DRM pooping on PC gamers while sparing console gamers such a horrendous and unworthy plight.
Your Daily Blend of Entertainment News
Staff Writer at CinemaBlend.