Dishonored Brigmore Witches DLC Details Coming Tomorrow, First Images Released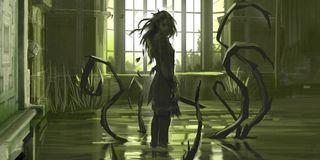 On Tuesday Arkane Studios will formally announce Brigmore Witches, the next DLC pack for their assassination game Dishonored. To tide us over, they've sent out two pieces of artwork.
"Daud's journey concludes, more details tomorrow," the company said on Twitter. They then linked an image of a flooded mansion. The house looks like it's been abandoned by proper nobility for some time. Weeds now grow in the corners of the rooms. Standing in the flooded ballroom is a knife-wielding woman surrounded by vines.
A second image posted on Bethesda's blog seems to show an exterior view of this same mansion. A figure clad in black - Daud? - is standing outside.
Unlike the Dunwall City Trials downloadable content, Brigmore Witches has a narrative. Players take on the role of Daud, the mysterious assassin that players encountered in the main campaign. After murdering the Empress, he now seeks redemption for his crime. Daud's story began in The Knife of Dunwall, the content pack released in April.
While Knife of Dunwall and Brigmore Witches retain the basic cloak-and-dagger gameplay from the base game, playing as Daud is a bit different than playing as Corvo. For instance, he can summon assassins to help in combat or stop time while blinking. He has new weapons at his disposal as well, such as stun mines and choke dust.
If you haven't played Dishonored yet, you really ought to. It's one of the best stealth/action games in existence not called Deus Ex or Thief. I consider it my favorite game of 2012 and it's not even close. You can read more about Dishonored in our review from last fall.
Speaking of buying Dishonored (do it), the game is 66% off today on Steam as part of the annual summer sale. That brings the price down to a mere $10.19. The discount also applies to all DLC so you can get Knife of Dunwall, Dunwall City Trials and the item pack Void Walker Arsenal on the cheap as well.
Image 1 of 2