Disney Infinity: Marvel Super Heroes Trailers Spotlight Drax, Gamora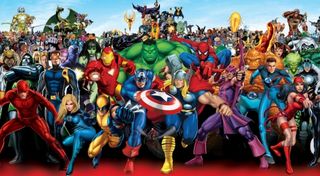 Disney is continuing to expand the Infinity universe with their 2.0 roll-out that focuses on Marvel's super heroes. During the summer there was the announcement that a Guardians of the Galaxy expansion would be available that features the heroes from the popular brand.
Things will kickoff with Star-Lord and Gamora. Aditional heroes for the Disney Infinity: Marvel Super Heroes 2.0 update for Guardians of the Galaxy will roll-out this fall. To help promote the expanion two new trailers have been released, one of which features Drax and another that features Gamora.
The trailer above spotlights Drax the Destroyer, a human who was given superhuman abilities in order to battle Thanos, after his family was killed by the super-villain. Drax eventually became a recognized member of the Guardians of the Galaxy and, by association, is now part of the Disney Infinity play-set.
In the game, players will be able to unleash Drax's abilities on enemies, including a powered-up damage buff, a power kick, an uppercut flurry and a super-charge.
Drax will be available to play in Disney Infinity: Marvel Super Heroes 2.0 this fall. The base set itself will be available in North America beginning September 23rd. The action figure that enables the character is sold separately from the base game.
Additionally, there's also Gamora, who also received her own trailer, which you can check out below.
Gamora is the adopted daughter of Thanos and is also the last of her species. She has super-agility, quick healing factors, and the standard-fare super-strength.
The character in the game sports a spinning slash, a sword uppercut, a seeker blast that sees projectiles latching onto enemies, and a power trip... it literally trips the bad guys.
Both Gamora and Star-Lord will kick-off the basic Guardians of the Galaxy play-set for the newest iteration of Disney Infinity and from there you'll be able to purchase Rocket Raccoon, Groot and Drax this fall.
As mentioned, Disney Infinity: Marvel Super Heroes 2.0 will go live next week in North America on September 23rd. The update will include more than just the Guardians of the Galaxy, as additional Marvel heroes and villains will make the cut from the wide expanse of the Marvel universe.
Disney Infinity is a mix of action-adventure gaming meets an open-world construction set. Players can build, craft and add objects to the world while also venturing around the world, completing quests and unlocking new content.
You can learn more about the latest update for Disney Infinity by paying a visit to the game's official website. The latest update will be available for consoles and PC.
Staff Writer at CinemaBlend.
Your Daily Blend of Entertainment News
Thank you for signing up to CinemaBlend. You will receive a verification email shortly.
There was a problem. Please refresh the page and try again.