Saints Row 4, Disney Infinity, Splinter Cell: Blacklist Hit PSN This Week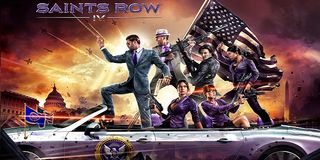 Tomorrow is Tuesday, a special time of the week for anyone gaming on a PlayStation platform as it marks the latest and greatest releases for games, DLC, this, that and the other. It's a pretty awesome week all around, featuring a gang leader turned president turned super hero, diving, kicking, alien conspiracies and an army of Disney characters.
It's probably safe to say that whatever small version of a summer drought was upon us these past few weeks has officially given way to the fall season rainstorms of new content. Fresh games are making their way en masse to just about every platform on the market, including the PlayStation 3 and Vita. This week's The Drop is a pretty hefty one, featuring highly anticipated titles for mature gamers and youngsters alike.
We begin with one of the most anticipated action games of 2013, Saints Row IV. After Saints Row: The Third, it was hard to imagine how a future installment could possibly raise the bar any higher. The series has become known for its over-the-top content, goofy characters, surprisingly decent stories and ridiculously fun gameplay. For SRIV, it turns out that it is, in fact, possible to cram even more awesomeness into the package, including super powers and a mother-freaking Dubstep gun. Along with the physical version of the game, a digital version will be hitting the PlayStation Network sometime this Tuesday.
If you like shooting aliens and/or terrorists, then you'll be happy to know that two additional action games will be available on PSN day and date with their physical counterparts this week, including The Bureau: XCOM Declassified and Tom Clancy's Splinter Cell: Blacklist. The Bureau will take you back to the roots of the legendary alien-busting organization while Blacklist will see the Splinter Cell series return to its roots in a slightly different way; revitalizing the series' stealth-heavy gameplay.
The latest in family-friendly entertainment is also being launched this week in the form of Disney Infinity. If you've ever seen Skylanders in action, then you have the basic idea of what to expect out of Infinity. Players can place collectable figures on the Infinity portal to see said character transported into the game world. The game features oodles of characters from Disney series new and old, including Cars, The Incredibles, Monsters Inc. and Pirates of the Caribbean.
For fighting fans, it's all about Divekick this week. As we reported a couple of days ago, indie brawler Divekick is set to bring its bizarre brand of fighting to the PS3 and Vita this week, giving players limited combat options that, surprisingly, also equate to deep, strategic gameplay.
Finally, what would a Drop be like without a couple of PlayStation 2 Classics to round out the roster? This week's offerings are Naval Ops Commander and Kessen III. If you missed out on these titles when they were originally released last generation, now is your chance to get in on the action as they make their way to the PlayStation Network.
Staff Writer for CinemaBlend.
Your Daily Blend of Entertainment News
Thank you for signing up to CinemaBlend. You will receive a verification email shortly.
There was a problem. Please refresh the page and try again.