Dragon Age II Pre-Order DLC, Black Emporium Announced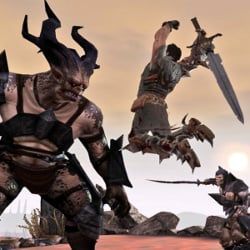 The deadline to pre-order the BioWare Signature Edition of Dragon Age II has now passed. However, there are still reasons to reserve a copy of the game or at least buy a new copy.
If you pre-order the game before March 8th (the North American launch date), you will get two bonus items for free. Players who pre-ordered the Signature Edition will get them as well:
The Lion of Orlais Shield - A mighty shield that comes with two rune slots as well as granting the player greater health and the ability to earn more XP.
The Fadeshear Sword - A powerful sword that actually improves as the player gains levels. It also does extra damage versus demons and the undead.
Anyone who buys a new copy of the game will get access to the Black Emporium, regardless of whether they pre-ordered.. The Emporium is a secret market located underneath Kirkwall. There you'll find magic and crafting stores, as well as a whistle to summon a powerful Mabari War Hound. The market also has a Mirror of Transformation that lets you change your character's appearance.
Staff Writer at CinemaBlend.
Your Daily Blend of Entertainment News
Thank you for signing up to CinemaBlend. You will receive a verification email shortly.
There was a problem. Please refresh the page and try again.