Drakengard 3 Sister Prologues DLC Adds New Story Content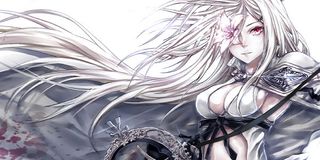 Drakengard 3 only came out a couple of weeks ago, but players can already dive into some additional story content in the Sister Prologues DLC packs, as well as some additional downloadable goodies, for the budget hack-and-slash game.
While Drakengard 3 originally launched on the PlayStation 3 for $49.99, it looks like that additional 10 bucks (and then some) are being accounted for in the game's first crop of story-driven DLC. This would feel less questionable if said DLC came out a couple of months following the game's release. Happening hot on the heals of the initial launch, though, it feels a little odd to seek nearly the full cost of the game proper (in total) for a bunch of additional chapters.
Of course, I have no idea what the original release schedule for Drakengard 3 was like in Japan. The DLC could have arrived well after the game and simply been easier to localize more quickly stateside, allowing Square Enix to get the content out more quickly.
"Key among the new DLC are the Sister Prologues that offer new playable levels as the various sisters, and provide deeper insight into their backgrounds," reads a press release from the publisher.
This new content offers up additional chapters featuring Two, Three, Four, Five and Zero (that's their names) in a playable level with their own unique weapons. Every chapter, except for Two's, offers its own trophy set as well. Each of these five chapters can be picked up for $5.99 a pop, or you can bundle them together with an additional chapter for One for $29.99. No word on if these levels you'll be exploring or enemies you'll be facing are reused from the game proper or new content, but it sounds like their stories, at least, are fresh.
The other new DLC offers a couple of clothing options and a change in tunes. The Furiae's Garb and Eris's Garb are $2.99 a pop and also alter your stats. And then there's the Intoner Arrange Track, which changes the background music you hear when Zero enters Intoner Mode. That one will set you back $1.99.
It's actually been 10 years since the Drakengard series was last on the scene, with Drakengard 2 hitting consoles back in 2004. Drakengard 3 is a prequel to the two previous games, telling the story of where it all began.
"Six goddess-like sisters, known as Intoners, have brought peace to the earth using the power of magic manipulation through song," reads the press release. "However, harmony is disrupted when eldest sister Zero attempts to murder her younger sister with the help of her dragon companion, Mikhail."
You can experience that tale for yourself in this action-packed brawler featuring loads of dragons and over-the-top combat, Drakengard 3, available now on the PlayStation 3.
Your Daily Blend of Entertainment News
Staff Writer for CinemaBlend.