Dreamfall Chapters Controversy Causes Music Contest Cancellation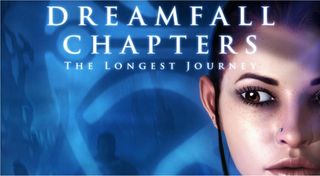 The upcoming Dreamfall: Chapters, due for release this November, came under a massive backlash from the music scene over a fan contest they held for the game that would have seen a fan-made song selected and used in the upcoming adventure title.
The contest originally saw fans submitting some of their tunes to the Kickstarted project and those who would have been selected would basically have their tunes featured throughout the game, playing in the background or on televisions, radios or over public announcement devices. A post on Reddit from user tomrhod notes that this wasn't the first time that Funcom held a contest for the inclusion of fan music to be used in a game.
A post over on Joystiq details how Funcom sought fans to submit their tunes that would later be included in The Secret World, the massive multiplayer RPG. The contest supposedly went off rather well back in February of 2013, but things have apparently changed enough that the same sort of contest is no longer seen as acceptable in the eyes of some.
Supposedly professionals within the music arena felt as if the contest was designed to exploit fans and get a hold of royalty-free music for the game, a similar argument that originally caused The Fine Young Capitalists campaign to get shutdown.
An update on the official Kickstarter page for Dreamfall: Chapters The Longest Journey details that the contest had been cancelled due to the conflict surrounding the event. As noted on the update, the decision is final and the contest won't be returning...
Red Thread Games closes out the post by noting that it's important to be "excellent" to each other and to respect opinions and views that may oppose popular opinion within the community. Their main goal is to keep the reactionary crowd in check and to ensure that those who verbally or textually attacked Red Thread Games over the contest aren't harassed by members of the community who are unhappy about the turnout of events.
The sad reality here is that someone who could have been thoroughly talented, and just needed an opportunity to get their music out there, had a potential avenue to a career in music cut short.
This isn't to say that anyone who submitted music to the contest could have become the next Jesper Kyd or Marty O'Donnell, but killing these kind of opportunities to bridge the connection between developers and gamers only hurts game culture. Could you imagine if the same thing extended to the games arena and game jam contests came under the same fire? It's like killing off the potentiality of future artists before they even have a chance to shine.
Staff Writer at CinemaBlend.
Your Daily Blend of Entertainment News
Thank you for signing up to CinemaBlend. You will receive a verification email shortly.
There was a problem. Please refresh the page and try again.