The Secret World Books The Last Train To Cairo DLC For Early March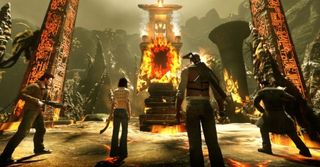 The mysteries of The Secret World continue to be revealed as Funcom unveils the latest DLC pack for this MMO set in the modern age, Issue #6, which has players battling an ancient god in Egypt as they try to take down "The Last Train to Cairo."
Going free-to-play late last year, the folks at Funcom continue to support The Secret World through regular updates and additional content through DLC. Scheduled for release sometime in early March, "The Last Train to Cairo" will offer players a dose of all-new adventures to go on and mysteries to unravel in an attempt to stop a bunch of cultists and their ancient god from destroying the world.
According to statement from Funcom, DLC Issue #6 will allow players to "fight atop moving trains, travel back in time to ancient Egypt to secure powerful artifacts, fight with the aweome new Whip Auxiliary Weapons, reap great new rewards for Veterans and Recruiters and face down a new and terrible monster from another dimension in an epic raid-size encounter."
This latest meaty offering throws players into a new story in the Scorched Desert map with a fresh batch of story missions and additional side quests in an effort to stop the last train to Cairo…Ooooh! Now I see where the name came from.
Set (mostly) in modern times and featuring monsters more akin to what you'd find in an episode of Supernatural, The Secret World offers a nice alternative to the fantasy and sci-fi offerings the MMO genre is best known for. For more information or to try it out for yourself, visit the game's official website. If you dig it, then maybe you'll want to fork over some actual cash for previous DLC packs and, come early March, you'll be ready to take on "The Last Train to Cairo."
Staff Writer for CinemaBlend.
Your Daily Blend of Entertainment News
Thank you for signing up to CinemaBlend. You will receive a verification email shortly.
There was a problem. Please refresh the page and try again.