E3 2010: The Busty Adventures Of Otomedius Excellent Is Coming To Xbox 360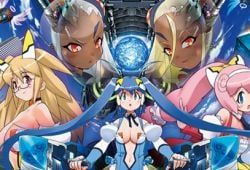 The closest thing you can get to video game hentai without it actually being hentai is the curvy new anime shooter, Otomedius Excellent for the Xbox 360. The game is scheduled to release later this year exclusively for Microsoft's console and I'm sure a bunch of young males will be eager to get their hands on it.
Shinji Hirano, President of Konami Digital Entertainment…
I've never been a Macross, Gradius, Blazing Star fan, but the visuals are quite perky and offer a tantalizing array of visual spectacles for the eyes to feast upon…if you know what I mean.
Aside from the obvious appeal to the testosterone driven audience (and that includes females who sway the way of flannel and Slim Jims) the game offers up online and local multiplayer features, fast-pace sidescrolling action, and unlockable graphics, wallpapers and art.
You can learn more about this XBLA title by visiting the Official Konami Website.
Your Daily Blend of Entertainment News
Staff Writer at CinemaBlend.