E3 2014: Tom Clancy's Rainbow Six: Siege For PS4, Xbox One, PC Coming 2015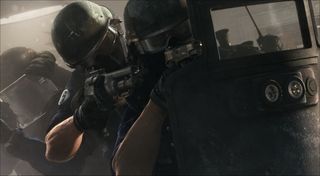 We warned gamers before E3 that a lot of the big games that would drop during the stage conferences would likely be prepped and amped for release in 2015 or 2016. Ubisoft certainly didn't disappoint in the arena of providing gamers with a very interesting look at a retooled and revamped Rainbow Six: Patriots in the form of Rainbow Six: Siege, aimed to arrive in 2015 for the Xbox One, PS4 and PC.
Instead of giving gamers a socio-political thriller where the line between "good" and "bad" gets blurred between all the gray associated with the deconstruction of a society's economic system at the hands of bankers and investors, Ubisoft re-announced Siege as a multiplayer focused shooter between hostage-takers and police enforcers, ala Counter Strike. The goal was to simplify the way the game was presented to a broad audience instead of shoehorning controversial subject matter over what appeared to many gamers to be a typical Call of Duty, Hollywood blockbuster cash-in.
Rainbow Six: Patriots eventually took a backseat and disappeared for a while as Ubisoft found a new way to repackage and refit the game for today's generation of gamer. Fast-forward to today and say hello to Rainbow Six: Siege.
Originally, a lot of gamers didn't take to the angry Tea Party/99 percent American insurgent theme present in the original Patriots that portrayed the lower class Americans coming together and forming a dangerous military coup. The real biting aspect to the game was that players were tasked with subduing the "bad guys" by any means necessary, even at times killing civilians, cops and everyone else in between to maintain "peace" and achieve "victory". I would be willing to bet that the whole concept didn't go over too well with the focus test groups.
With Rainbow Six: Siege we only managed to see the multiplayer gameplay that was showcased during E3, which you can view below.
It's pretty cool how the competitive aspects roll out during that controlled gameplay video above. I'm almost 100% sure that the game will not look like that when it launches in 2015 if the current trend of eighth-gen gaming graphics are anything to by.
However, I do love the way a lot of the physics work in the trailer with Ubisoft's new procedural destruction engine, the unscripted proprietary Realblast Engine. It looks so good in that video.
We're looking at the kind of dynamic shootouts and interaction that makes the game feel like more than just another Call of Duty-style game. We're seeing suppression, bullet drop and projectile penetration all playing a huge role in how the shootouts play out in the game and I absolutely love that. I love it so much.
Battlefield 4 has similar mechanics when it comes to weapon-based combat but it's no where near as dynamic as what the Rainbows Six: Siege video is showing.
Even more than that is the fact that Ubisoft's CEO Yves Guillemot commented to Geoff Keighley during a post conference interview that the game would be running at 60 frames per second. That seems pretty crazy and a little early to make such a claim but if Ubisoft can live up to the expectations then it's all good.
For more info feel free to visit Rainbow Six: Siege's official website or check out more of our E3 2014 coverage right here at Gaming Blend.
Your Daily Blend of Entertainment News
Staff Writer at CinemaBlend.