Rainbow Six: Patriots Delayed Because It Wasn't Good Enough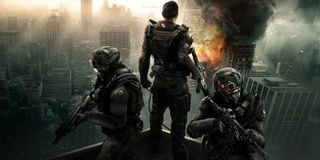 Ubisoft North American president Laurent Detoc has explained why the company delayed Tom Clancy's Rainbow Six: Patriots to the next generation of consoles. In a new interview, he said that the game simply wasn't up to snuff.
"We had a core team. They had a good vision. They got started, and then the game wasn't working. So [they had] to start again," Detoc said in an interview with IGN. "There's an editorial group in Ubisoft, a big group, very influential. If the game is not good enough, they say it's not good enough. Most of the time, the team will say, 'yeah, I know.' But sometimes they want to continue in a direction where you say, 'no, it's not going to work.'"
Patriots was originally envisioned as a Xbox 360 and PS3 game. Players guide an elite special forces team in combating a domestic terrorist group as the Patriots. This group is obsessed with striking out at the one percenters that they believe are controlling the United States. The plot was said to be morally ambiguous, with the player being asked to take extreme measures in order to prevent the Patriots from completing their mission.
Since the game's announcement in 2011, we've only heard bad news. Several top members of the development team, including the lead designer and narrative director, were reassigned to other projects in March 2012. After a year of uncomfortable silence, Ubisoft confirmed that the project was now being targeted for next-gen platforms.
Detoc says that the Patriots is now being "remade" to take full advantage of new consoles. It's not clear how much of the game's original premise has remained intact, though. In the interview, Detoc suggests that it might not even be called Patriots anymore.
"Could it become a shooter with another name in the end, because the team doesn't want to do counter-terrorist guys? Say they want to be in a mercenary setting? That's possible."
Even though many fundamental parts of the game could be revised, the Tom Clancy prefix will most likely stay. When Clancy passed away in October, Ubisoft pledged to continue producing games inspired by his novels.
"The teams at Ubisoft, especially at the Red Storm studio, are incredibly grateful to have collaborated with and learned from him, and we are humbled by the opportunity to carry on part of his legacy through our properties that bear his name," the company said at the time.
Your Daily Blend of Entertainment News
Staff Writer at CinemaBlend.