E3 2015: Xbox One Press Conference Takes Us Into The Next Generation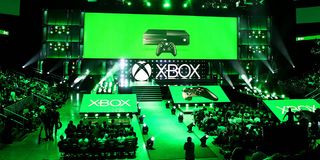 From AAA games to indie titles, third party offerings to exclusives, new services to fresh peripherals, the Xbox One came out swinging hard at this year's E3 press conference, offering a little something for everyone gaming on Microsoft's home console.
It's hard not to be a bit jaded when it comes to annual trade show press conferences. Games get announced and then canceled. Titles are shown off that promise to release in, you know, a year or two. Even the most exciting announcements typically come with a "but" attached that manages to damper the excitement.
Maybe it's because we're still early on in this year's Electronics Entertainment Expo and I haven't had the opportunity to feel drained both mentally and physically by multiple days on the show floor, but I walked out of the Xbox One press conference a couple of hours ago feeling very excited for the future of the console. In short, it finally feels like the new generation of gaming has arrived.
Xbox's 2015 E3 press conference began with your standard montage, showing off glimpses at games like Halo 5, Gears of War, Rise of the Tomb Raider and more. The message was simple: Jump ahead. What followed, though, was plenty of bite to back up that marketing jargon bark. Corporate VP of Microsoft Bonnie Ross was one of the first folks to take the stage at the show, promising "the characters, the games and the stories people love."
Microsoft delivered.
Similar to the 2014 show, the Xbox One presser was full of games, games and more games. We took a short break to discuss some new and impressive tech but, for the most part, it was all about those characters, games and stories Ross had referenced.
The Games
The main show, of course, began with Halo 5: Guardians, now with 100 percent more Nathan Fillion. Due out on Oct. 27, the new Halo looks prettier than ever, boasting drop-in/drop-out cooperative gameplay that lets players control two different squads throughout the campaign. Even more impressive is what I've taken to calling Battlefield: Halo Edition. A new "Warzone," multiplayer mode was briefly shown off that boasts 24-player competitive action that's "player vs. everything." What that means is that while two teams of opponents duke it out on maps promised to be four times the size of anything else the series has ever seen, AI-controlled enemies will also be on the prowl, giving players plenty of targets to shoot at and objectives to tackle.
Quickly changing gears, Recore was shown off next, giving players their first glimpse at a new game coming from the mind of Keiji Inafune. The lovechild of Comcept and Armature, all we know is that this story of a wasteland warrior and her glowing orb of a friend; which has the ability to power different mechanical creatures. Look for more on that one leading up to its Spring 2016 launch.
The cavalcade of announcements continued from there, mixing known quantities with brand new reveals including looks at games like Fallout 4, which will boast mod support on Xbox One, Plants vs. Zombies: Garden Warfare 2, Forza 6, The Division and Rainbow Six: Siege.
A handful of surprises were peppered throughout, including a look at Dark Souls III, which will be coming to Xbox One, PS4 and PC early next year, and Gigantic, a bright and colorful class-based action game.
Making a huge about-face from a couple of years ago, Xbox cut out a nice chunk of time for upcoming indie titles, including the highly anticipated Cup Head and the lovel-looking Beyond Eyes.
Heading into the home stretch, next up came a look at the gameplay for Rise of the Tomb Raider, including a young Lara Croft making an insane ascent up a crumbling, icy mountain, and the free-to-play Fable Legends, which lets one player pit a horde of evil minions against a bunch of goodie-two-shoes heroes.
Rare Replay was also officially announced at this year's Xbox E3 presser, boasting 30 classic games in a single collection including Battletoads, Perfect Dark, Banjo-Kazooie and more.
Closing out the show as none other than Gears of War 5, which you'll have to wait until Holiday 2016 to get your hands on. The game appears to be coming along nicely, though, boasting a pair of new heroes in a gameplay section that boasted all of the Gears staples, like crumbling buildings that appear to be located somewhere in Europe, monsters with tentacles aplenty, lots of shooting and, of course, some good old-fashioned chainsaw eviscerations.
The Tech
While games were certainly the focus of this year's show, Xbox One has quite a few new bells and whistles in the pipeline for gamers to enjoy, including a new Elite controller with interchangeable components and an Xbox Game Preview program that works a lot like the PC's early access games, giving players an opportunity to buy in early and help shape the future development of various titles.
While Microsoft announced a partnership with Oculus VR technology recently, another partnership with Valve VR was also announced at this year's show, as well as a demonstration of Microsoft's impressive HoloLens technology.
A special camera was utilized during an on-stage live demonstration of the HoloLens being used with a new version of Minecraft, allowing the audience to see what the user was seeing through their hedset. The presentation began with the game being "projected" on a virtual screen in front of the player, and then he moved the entire game world onto a nearby table. That might sound confusing typed out like that, but imagine looking at a table and seeing your Minecraft level, built in 3D, right in front of you. The game can actually be played and manipulated from this view, which was admittedly nifty to see happening in real-time. No telling if the technology can take off, but it's certainly an impressive idea made reality.
Finally, Xbox One is getting backwards compatibility. Yes, you read that right. The rollout will take place in phases, but expect to be able to play your Xbox 360's physical and downloaded games on your Xbox One in the months and years ahead.
Your Daily Blend of Entertainment News
Staff Writer for CinemaBlend.