Rise Of The Tomb Raider Trailer And Box Art Scales An Icy Mountain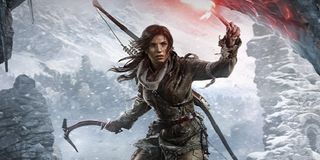 It looks like the legendary spelunker known as Lara Croft will have little trouble staying frosty during her next adventure, as the latest trailer and box art for Rise of the Tomb Raider shows our heroine braving a frigid mountain.
As you might have expected, the new Rise of the Tomb Raider trailer doesn't reveal too much about the upcoming game. We see Lara making her way up a snowy cliff, climbing a frozen mountain, nearly falling to her death on said frozen mountain, and eventually entering a cave before striking a flare and settling into a dramatic pose. It's exactly the kind of teaser we needed to see, though, reminding us that this new series aims to pit Lara against more human dangers as she learns to become the tomb raider we've all come to know and love.
While I'm still not a huge fan of the game's name, I'm happy to see that we'll be heading to a whole new atmosphere for Croft's next outing. The most recent Tomb Raider took us to a tropical island that should have felt familiar to series fans, or those who enjoy the Uncharted series. Similar to Nathan Drake's second outing, this new version of Lara's sophomore adventure will also visit frigid locations that make the elements just as dangerous as any bullet or beast.
The new trailer and the game's box art went live this morning, a mere two weeks before the annual E3 trade show in Los Angeles.
If you ask me, that means there's a pretty good chance we'll be seeing even more of Lara in about 14 days. Why would you release a teaser for a new game just a couple of weeks before one of the biggest gaming shows of the year unless you're aiming to provide just a taste of what's to come? Rise of the Tomb Raider is still due out as an Xbox One timed exclusive this winter, last I heard, which means it's high time we see some actual gameplay, or perhaps a story trailer for the upcoming title.
Either way, this latest trailer makes it look like Rise of the Tomb Raider is heading in the same direction as the last game, which is a huge check in the plus column for me. It's nice seeing a more dramatic Croft, and it was especially great to have the series' mechanics, look and narrative step into the modern age of gaming.
Staff Writer for CinemaBlend.
Your Daily Blend of Entertainment News
Thank you for signing up to CinemaBlend. You will receive a verification email shortly.
There was a problem. Please refresh the page and try again.