EA Appoints New CEO: Andrew Wilson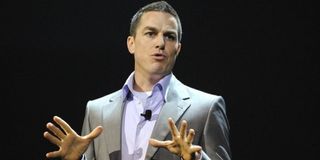 Electronic Arts will be entering the next generation of gaming with a new leader. Today, the company's board of directors announced that EA Sports executive vice president Andrew Wilson will be their next CEO.
"Andrew joined EA in 2000 and has held several strategic positions in our studio organization, providing leadership on product and brand development for both packaged goods and digital services," said executive chairman Larry Probst of Wilson (via WSJ. "He has extensive experience with our Asia Online Publishing Group and our studio in Seoul, Korea. Earlier in his career at EA, Andrew distinguished himself as the Executive Producer of our FIFA franchise."
"Most recently he has served as the Executive Vice President overseeing EA SPORTS and our online portal for digital games and services, Origin. In his leadership role of the EA SPORTS Label he has shown an exceptional ability to identify and develop talented people and teams."
Wilson's predecessor was John Riccitiello, who resigned in March. Riccitiello's tenure was marred by expensive flops like Star Wars: The Old Republic as well as PR gaffes such as the SimCity always-on saga. EA was voted Worst Company in America in 2012 and 2013 by a Consumerist poll.
Probst has served as the interim leader while EA searched for a replacement these past few months. He'll stay on as executive chairman for "an indefinite period" to assist in the transition. Probst notes that Wilson is the first studio executive to serve as EA's CEO. His extensive video game industry experience stands in stark contrast to Riccitiello, who served as CEO of Wilson Sporting Goods and Sara Lee before joining EA as chief executive. Maybe that's a good sign for the company?
In his first statement as CEO, Wilson didn't make any earth-shattering announcements. He plans on carrying out EA's current strategy, but executing it better. The company will continue to invest in consoles, mobile platforms, and free-to-play PC titles. Additionally, Wilson pledged to further the company's transition toward digital distribution.
"We have made strong progress in the first half of the fiscal year, establishing financial discipline and continuing to create a slate of fantastic games for current and next-generation consoles, mobile and PC," Wilson said. "But now we've got to finish the job – execute in Q3 and Q4 and deliver on the promises we made to our fans and our shareholders."
Wilson says he'll announce more information on his plans in the coming weeks. Today's not about details, though. It's about warm and fuzzies.
"I envision EA as the World's Greatest Games Company. This is not about what we are aiming for or what we will become. Rather, it is about an unfaltering commitment to what we will be every day. This is an attitude that must drive our culture as one team."
Your Daily Blend of Entertainment News
Staff Writer at CinemaBlend.
Your Daily Blend of Entertainment News
Thank you for signing up to CinemaBlend. You will receive a verification email shortly.
There was a problem. Please refresh the page and try again.