EA's Facebook Page Trolled With Hentai, Valve And Gabe Newell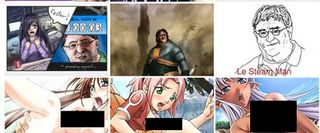 If you're going to take a big corporation down there's no better way to do it than to troll them and there's no better way to troll than with a company who makes better products at inexpensive prices and with loads, and loads, and loads of perverse Japanese hand-drawn pornography. The Facebook page has since been cleaned up nice and neat but a few sites still have proof that EA was knee-deep in internet troll territory.
About 12 hours ago EA's Facebook page was bombarded with troll garbage and PC gaming's favorite not-so-corporate hero, Gabe Newell, the president of Valve Software. If you pay a visit to EA's Facebook page right now it looks all tidy and corporate, but Gameranx and Geek Party have some NSFW screencaps of what EA's Facebook looked like so many hours ago.
Both sites – among the many others covering the news – attribute the troll to none other than 4Chan. There's no proof it was done by 4Chan yet, but I mean, let's face it the religion of trollism belongs to 4Chan and putting anything past them would be like assuming John Edwards could walk past a brothel without going in for a quickie.
Most inner-circle gaming groups have actually praised the trollers for making EA blatantly aware that gamers really are tired of the corporate circle-jerk that seems to pervade every aspect of mainstream gaming today. The idea that gamers should be happy to pay bloated prices for nickel-and-diming DLC all while fan-favorite studios are buried under franchise suicide and marketing budgets gets wildly out of control just didn't sit well some groups and it shouldn't.
It's kind of hard to ignore the comparisons at this point and given that it's so hard to get EA to recognize where they're going wrong I suppose maybe being trolled was the only way to see where they need to go right...well, not with hentai or whatever, but mirroring more of their practices after Valve. I'm sure there are some gamers who wouldn't mind EA diving head-first into the former, though.
Your Daily Blend of Entertainment News
Staff Writer at CinemaBlend.
Your Daily Blend of Entertainment News
Thank you for signing up to CinemaBlend. You will receive a verification email shortly.
There was a problem. Please refresh the page and try again.