EA's Q1 2013 Financial Results Sees PC Growth And Riccitiello Still Has A Job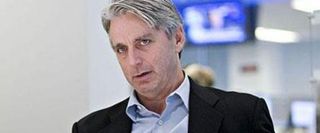 The EA quarterlies are up and available for public viewing. It's pretty much what you would expect from a mega-corporation: there are lots of numbers, plenty of dollar signs and a marketing budget that seems to be edging out 2011 by a point or two. What's more is that John Riccitiello is still the CEO of EA.
After the CEO mounted fears that his job would be on the line, the executive board members reassured Mr. Riccitiello that they're not terribly pleased with where the company stands but they're happy they're still making money, so they let Johnny Boy keep his job. And at the end of the day, isn't that what video game culture is all about? Making old rich guys who probably vote for the dillweeds who keep trying to censor video games, even richer? Yeah, that's what gaming culture is all about...greed.
Moving on...the EA quarterly looked somewhat interesting and yet it wasn't that surprising. Amid all the operating costs and revenue, the one thing a lot of gamers are probably curious about is whether EA's sales and marketing would take a cutback for the quarter but it looks like it just barely edges out the previous year's expenses going up to $145 million for the quarter as opposed to the prior year's $140 million in marketing expenses. The real catch 22 will be for the third quarter when the holiday season gets hot and heavy.
In other parts of the results the PC found its way into a nice little niche that actually managed to surpass the PS3 when it came to total revenue, mostly thanks to EA's Origin platform which now supposedly has 21 million registered users (although it doesn't specify if these are new users to Origin or other users who also transferred accounts into Origin from other EA services, including previous iterations of Origin).
The PC platform for EA managed a lucrative $276 million over the PS3's $267 million. Unsurprisingly enough, the Xbox 360 beat out all the consoles as EA's most prized possession with $292 million for the quarter. EA's total revenue came up to $955 million which is down from the previous quarter's $1.3 billion, but of course there were no heavy hitters this quarter like Mass Effect 3, so it makes sense.
One thing worth noting is that all this talk about the mobile platform being a big factor in sales and potential profit and year-round the mobile division (handheld gaming devices aside) has yet to breach the $100 million mark. For the quarter the mobile phone, tablet and carry-device market managed only $67 million. I guess it'll just be a few more years before gamers finally give up home consoles to twiddle their fingers on a easy-smudge phone.
You can check out more stats and numbers for EA's Q1, 2013 financial results over at their official investors page.
Staff Writer at CinemaBlend.
Your Daily Blend of Entertainment News
Thank you for signing up to CinemaBlend. You will receive a verification email shortly.
There was a problem. Please refresh the page and try again.