EA Shutting Down The Sims 2 Servers For PC, Mac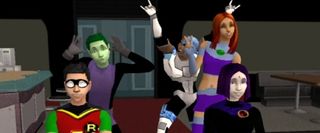 A list of new games have been outed as part of EA's public service announcement for game server retirements. Majority of the games are from two years back but one title that stands out as part of the shutdown is The Sims 2...yes, The Sims 2, one of the most popular mainstream niche titles that managed to garner a wide following and tons of subcultural communities.
The complete list is on EA's server shutdown page, where the games biting the dust for January, 2013 are as follows:
January 19, 2013 -- Online Services Shutdown
Trenches II for iPad, iPhone and iPod touch
January 14, 2013 -- Online Services Shutdown
The Sims 2 for PC/MAC and TheSims2.com
January 11, 2013 -- Online Services Shutdown
FIFA Soccer 11 for PC, PS3, Wii & Xbox 360
FIFA Soccer 11 Ultimate Team for PS3 & Xbox 360
Madden NFL 11 for PS3, Wii & Xbox 360
Madden NFL 11 Ultimate Team for PS3 & Xbox 360
NBA JAM for PS3 & Xbox 360
NBA LIVE 10 for PS3 & Xbox 360
NCAA Football 11 for PS3 & Xbox 360
NHL 11 for PS3 & Xbox 360
NHL 11 Ultimate Team for PS3 & Xbox 360
January 3, 2013 -- Online Services Shutdown
FIFA Manager 11 for PC
As some of you know, for games with online server authentication, when the servers go down it means the game is useless. A coaster for whatever price of entry you paid.
Many of the games on the list above are unsurprising, but shutting down servers for The Sims 2 is a bit odd given the strong following of the game, not to mention all the expansion packs out there that EA released for the game. Sucks to be a Sims 2 player.
However, this certainly lends credence to the debates about SimCity 5 and its always-on DRM. While many non-core gamers and corporate apologists will say that gamers won't be playing games five or 10 years from now, they speak only for themselves. I, for one, still play the original Micropose X-Com every once in a while. In fact, I was playing it earlier this year and the amount of content removed from the newest XCom in comparison to the original is what helped me decide not to buy Firaxis' game.
The real question is: five, 10, 15 years from now...will gamers will be able to play the newest SimCity? If it becomes their go-to game – and at $60 a pop it very well should live up to the standard of being a go-to game – what happens when EA decides to retire the server if the sales don't live up to expectations? It's a self-fulfilling prophecy at that point for all those opposed to always-on DRM.
Anyway, I really hope the gaming community doesn't let up about this DRM issue. These big businesses are already forcefully removing LAN out of games and then forcing multiplayer through authentication servers, making all forms of multiplayer obsolete when the servers shut down. Further stripping consumer rights with this always-on DRM bullcrap is just icing on the cake and I'd advise every gamer worth their salt to keep the public pressure on these publishers and ignore shills, pro-corporate apologists and PR spiel-spewing marketers. They don't deserve our money if the only thing they're after is our money.
Staff Writer at CinemaBlend.
Your Daily Blend of Entertainment News
Thank you for signing up to CinemaBlend. You will receive a verification email shortly.
There was a problem. Please refresh the page and try again.