Earth Defense Force 2 Trailer Shows Off These Bug-Slayng Features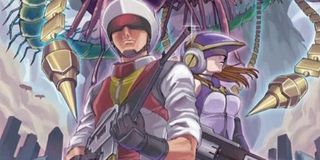 Earth Defense Force 2: Invaders from Planet Space is finally making its way to the US, boasting a number of improvements over the original version of the game that launched in Japan. And to help demonstrate some of the series' trademark over-the-top action heading for the PlayStation Vita, the folks at XSEED Games have released a brand new trailer.
In case you're unfamiliar with the series, Earth Defense Force started out as a budget action series in Japan that basically took all of those B horror movies from the sixties and seventies and turned them into a single game. You join the ranks of the EDF as they fight to defend Earth from "flying saucers, giant monstrosities and eight-legged horrors," according to this latest trailer for Earth Defense Force 2.
As you've probably gathered from the game's title and that latest trailer, Earth Defense Force is all about having big fun in a game that never takes itself too seriously. This new footage shows off some of the latest baddies you'll be facing in Invaders from Planet Space, as well as the vehicles and firepower you'll be using against them.
Series fans will also be happy to hear that Invaders from Planet Space was developed by the original EDF team, Sandlot, and D3 Publisher. On top of a ridiculous number of levels based on real-world settings and lots and lots of firepower, you'll be able to enjoy a few upgrades when the game finally launches here in the States, including four-player online and local co-op, a new English dub that allows you to keep your eyes on the action rather than reading subtitles, as well as a brand new player class.
The standard Infantryman and jet-pack-wearing Pale Wing character classes will return to action in this latest EDF, and they'll be joined by the new Air Raider class, which kind of turns the game into a tower defense affair. Air Raiders will primarily tackle the battle from a bird's eye view, strategically placing mines, sentry guns and air strikes to take out the baddies.
I had an opportunity to go hands-on with Invaders From Planet Space during E3 2015 and was pleased to discover that the game felt like the EDF I've grown to know and love. I accidentally blew up Big Ben while fighting off a horde of massive ants and managed to drive a tank off of a bridge and into the Thames, so I consider that a rousing success.
If that's not enough EDF to tide you over, don't forget that Earth Defense Force 4.1: The Shadow of New Despair is also set to hit the PlayStation 4 in the coming months. To keep up with both games, keep your eye on the series' official Facebook page.
Remember: The only good bug is a dead bug.
Staff Writer for CinemaBlend.
Your Daily Blend of Entertainment News
Thank you for signing up to CinemaBlend. You will receive a verification email shortly.
There was a problem. Please refresh the page and try again.