E3 2015 XSEED Booth Tour: From Japan, With Love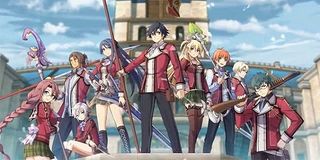 XSEED Games had a huge presence at E3, upping last year's count of four games on the showroom floor to a total of nine in 2015. Boasting titles like The Legend of Heroes: Trails of Cold Steel, a pair of Senran Kagura games and a pair of titles from the Earth Defense Force series, there's a little something for just about any type of gamer who enjoys a distinct off-the-wall Japanese flair injected into their digital entertainment.
Unfortunately, I wasn't able to go hands on with every title at the XSEED booth this year, only getting to clap my peepers on Corpse Party: Blood Drive, Nitroplus Blasterz: Heroines Infinite Duel and Onechanbara Z2: Chaos.
Corpse Party: Blood Drive is the third, and supposedly final, offering in the celebrated horror game franchise. Coming to the PlayStation Vita later this year, Blood Drive continues the series' tradition of changing things up a bit. Whereas the first game was more of a puzzle-solving adventure with old-school graphics, the sequel alternated between scenes set in the first-person view and lengthy visual novel chunks of storytelling. Blood Drive, however, makes the jump into 3D, giving players a haunted and deadly school to explore on a quest for survival.
Nitroplus Blasterz: Heroines Infinite Duel is a fighter from the team behind the popular Arcana Hearts series, boasting an all-female cast of brawlers in lightning-fast combat. Look for it this winter on the PlayStation 3 and PlayStation 4.
And then there's Onechanbara Z2: Chaos, the latest game featuring scantily-clad cowboy warriors who must dispatch hordes of zombies. Yay, Japan! This one's actually due out on June 30 for the PlayStation 4, in case you're interested.
The Legend of Heroes/Return to PopoloCrois
I grouped these two together because it's very hard to know much about a JRPG with only 10 or so minutes of hands-on time. All I know is, fans of the genre don't have a heck of a lot to look forward to these days and, based on what little I got to see, there are two titles folks should probably keep their eyes on.
Return to PopoloCrois: A Story of Seasons Fairytale feels more like a classic RPG, boasting adorable chibi characters, labyrinthine maps and random encounters on the 3DS. The battle system, though, mixes a little old with a little new. Combat is turn-based, but players can move around and act within a grid, allowing for strategic battles that reward carefully aimed abilities.
Having Story of Seasons in the name should be your clue that the game actually features a bit of farming, which I happened to stumble into briefly. Entering a farming area opened up an inventory similar to the recent successor to the Harvest Moon games, where I mined for ore and watered a few plants. I'm assuming these can be used in crafting or to earn a few bucks, but that's just conjecture at this point.
The Legend of Heroes: Trails of Cold Steel already has JRPG fans in a tizzy, as it's the latest offshoot in an already beloved franchise. Set in the same world as Trails in the Sky, players will be in control of a group of students who, instead of hitting the books, are tasked with hitting enemy soldiers in an effort to stop a terrible war.
The game is coming to both the PS3 and Vita and it looks pretty great in motion. Each character in the large roster has their own weapons and abilities, meaning you'll have a lot of strategic options at your disposal. Some attacks can be aimed to hit targets in an area of effect, for instance, making positioning and crowd control an important part of battle. Assist opportunities will also pop onto the screen from time to time, allowing you to deliver an additional attack if you're quick enough to hit the button prompts.
Look for it this fall.
Earth Defense Force
As stated above, XSEED will be bringing a pair of Earth Defense Force titles Stateside later this year, including a new offering for the Vita and one for the PlayStation 4.
If you've played an Earth Defense Force game in the past, you know exactly what to expect here. As Earth Defense Force 2: Invaders From Planet Space loaded up on the Vita, my helpful booth attendant asked if I knew how to play the game. "Kill em all," I replied. "Yep, you've got it."
The level I was dropped into featured the familiar EDF ant enemies, overrunning a section of London. In a matter of minutes, I had slaughtered a horde of enemies, blown up Big Ben and jumped behind the controls of a tank in order to wipe out even more creepy-crawlies. They managed to overwhelm me, though, with the ants flipping my tank into a nearby river and forcing me to fall back on my firearms.
Earth Defense Force 4.1: The Shadow of New Despair offered similar gameplay on the PlayStation 4, only with much more detailed visuals and smoother controls.
The battle was set in Japan this time around, where I once again unleashed hell upon a never-ending swarm of ants. My attendant informed me that this updated version of EDF: 2025 includes loads of new content, new weapons, and even some new abilities for the various classes. My trooper, for instance, now has the ability to destroy smaller obstacles by rolling through them, making him a bit more mobile than in previous entries.
Senran Kagura
If you shy away from fan service, then you want to ignore both of this year's entries in the Senran Kagura game series. There's scantily clad school girls who become even more scantily clad through battle. There's also jiggle physics. Lots and lots of jiggle physics.
If you're not too easily distracted by bewbs, though, then there are two new action titles coming to portable and home consoles that might be up your alley.
Senran Kagura 2: Deep Crimson is the sequel to the 3DS brawler, boasting familiar characters, a couple of new faces and an all new adventure. Deep Crimson carries over the 2D fighting of the previous 3DS title, as well as incorporating some levels that put you into the 3D open world settings of the console versions of the game. Your objective is pretty simple: Pummel the crap out of everything that moves, unleash your special moves and enjoy the flashy (Pun intended, I suppose) fireworks.
Senran Kagura: Estival Versus will be heading to the PS4 and Vita later this year, and this particular pummel-a-thon's battles are entirely set in that open arena the new 3DS game makes lighter use of. Similar to Deep Crimson, you should expect new brawlers, a new story and a fresh paint job that makes the environments pop. The game looks quite lovely in action and packs the same surprisingly deep brawler controls on display in this past year's Shinovi Versus.
Your Daily Blend of Entertainment News
Staff Writer for CinemaBlend.