Elder Scrolls Online Changes Discussed By ZeniMax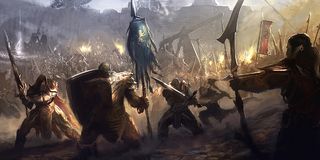 ZeniMax Online Studios is modifying Elder Scrolls Online in several ways thanks to user feedback. Creative director Paul Sage revealed several of the plans for the MMO on the game's beta forums (via Reddit).
A new Death Recap feature will give you more insight into your many failures. When you die, the game will tell you who or what killed you and also summarize the last five events that led to your death. You'll also get hints to help you avoid another untimely death.
The developers also have a couple display changes in the works. The first is exclusive full screen mode to improve performance for some users. A FOV slider will let players adjust the field of vision.
Players can temporarily level up for ESO's PvP combat. Characters enhanced by this "battle leveling" aren't as powerful as characters that have actually attained that level normally, though. This upgrade is automatic but ZeniMax plans to give players the ability to turn off this feature.
ZeniMax hopes to make the world feel more "real." Players will be able to pick up more objects in the world, such as armor and weapons on racks. Separation of group members from quest phasing will be reduced, though it's not clear how yet. Sage says that they're "currently testing some solutions".
One of the main end-game activities for max-level players in ESO will be "adventure zones." These instances, designed for large groups of players, might be the closest thing the game has to raids. ZeniMax hasn't said much about these zones yet, much to players' chagrin. However, Sage says that they'll share "lots of details" soon.
"Of course, there is way more happening than what is listed here, with team busy on many initiatives including continued bug fixing, balancing, and other features. But these are things we can offer some tidbits on that you'll hopefully be seeing soon. As with anything in development, things could change, so we are not guaranteeing these."
Elder Scrolls Online will launch in one month on the PC and Mac. ZeniMax has been hosting weekend beta events throughout the past year in anticipation. The most recent beta was held last weekend. It's likely that they'll hold at least one more big test. At this point they're interested in stress-testing servers and making sure that the game can handle a huge influx of players at launch so you should have a great chance at getting into the final beta events.
Image 1 of 3
Your Daily Blend of Entertainment News
Staff Writer at CinemaBlend.