Elder Scrolls V: Skyrim User Created Mods Could Be Available On Xbox 360, PS3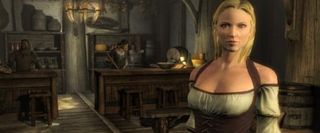 Okay, so maybe Bethesda didn't learn much from the booby fiasco with Elder Scrolls IV that resulted in the game going from 'Teen' to 'Mature' because some modders made the boobies visible using some simple skin texturing tools. Why do I say that? Because Executive Producer, Todd Howard wants mod creation tools to one day become available for Elder Scrolls V on the PS3 and Xbox 360…their only hold up is getting Sony and Microsoft to approve.
In an interview with Next Gen, Howard explained that the Creation Kit they're using to design the game…
Well, it looks like console gamers who don't have modded Xbox 360s and PS3s will one day be able to also experience the boobies that PC gamers have been enjoying with modded games since the days of Doom and Duke Nukem 3D…not that Duke needed modded boobs...because, you know, they were already available in the game.
Anyway, Elder Scrolls V: Skyrim is set for release on November 11th of this year for the Xbox 360, PS3 and PC. Need to keep up to date on the latest happenings of the game? Be sure to drop by the Official Website.
Your Daily Blend of Entertainment News
Staff Writer at CinemaBlend.