Elite Dangerous Horizons Beta Will Launch Next Week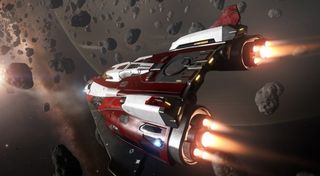 Elite Dangerous players will have to wait a bit longer to try out the new Horizons content. Frontier Developments said that they've pushed the test to early next week.
Frontier's David Braben said on the game's forums that they delayed the test due to some last-minute problems:
Horizons is described as a new season of content for the PC/Xbox One space sim that will extend into 2016. The first expansion of this season will be called Planetary Landings. As the name suggests, Landings allows players to fly to the surface of the moons and planets that they find. They can explore these worlds to find new resources. They can also attack hostile bases with friends to reap rewards.
As a consolation prize for Elite Dangerous players, Braben shared two new gameplay videos from Horizons. The first shows a ship approaching Europa. In the second, we see the ship travel down to the Moon's surface:
It's easy to see why players would be excited about this particular expansion. Planetary exploration fundamentally changes the game and makes the in-game galaxy feel so much more real. It's also cool that the transition from space to surface is so seamless. How many games other than, say, No Man's Sky promise that sort of experience?
Anyway, I hope that the beta start this week as planned. It seems like Horizons will be a huge new chapter in Elite Dangerous' history.
Staff Writer at CinemaBlend.
Your Daily Blend of Entertainment News
Thank you for signing up to CinemaBlend. You will receive a verification email shortly.
There was a problem. Please refresh the page and try again.