Fable Anniversary Delayed To 2014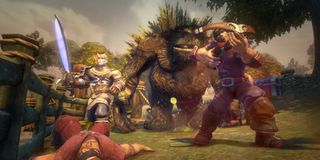 Lionhead Studios won't be releasing the HD remake of Fable this year after all. Today the developer announced that they've pushed Fable Anniversary's launch into early 2014.
"We've been working hard for the past year to bring you the very best Fable Anniversary experience on Xbox 360," Lionhead said in a letter to fans. "We feel though, that we need a little more time in order to meet our ambitions and give you, the fans, the best game possible. I know I speak for everyone at Lionhead when I say that we can't wait for you to see what we've been up to, and it gives us great pleasure to let you know that you can expect Fable Anniversary to be both on-shelves and online via the Xbox Games Store in February 2014."
In Fable, the player is an adventurer in the medieval fantasy world of Albion. After receiving training at the Heroes Guild, they set out on a journey to defeat the Jack of Blades. Along the way, they'll have to decide whether to act good or evil. The character's alignment influences their appearance as well as NPC's reactions to them.
Fable Anniversary updates the Xbox Original RPG so that it makes better use of the Xbox 360's capabilities. The HD remake supports 1080p resolution visuals and has shorter loading times than its predecessor. Lionhead remade the UI and save systems for the game while also adding Xbox Smartglass and Achievement support. It's still a single-player game but leaderboards give some semblance of a player community.
Although Lionhead has pushed back the game, they're not keeping it under tight wraps. They're going to share a lot of information on the game this fall. Expect a lot of screenshots, videos, and "top secret announcements." The developers will start this wave of new information with a Twitter Q&A starting later today at 17:00 GMT+1, or 12PM Eastern. The Q&A will run for exactly an hour.
In addition to developing Fable Anniversary, Lionhead is also working on an Xbox One exclusive Fable Legends. Legends is a brand-new game set hundreds of years before the original trilogy. Players will be able to tackle the campaign with three friends or three A.I. companions. It's possible that Anniversary's delay could impact the release timing of Legends, but Lionhead never announced a release window for Legends so there's no way of knowing.
Image 1 of 5
Your Daily Blend of Entertainment News
Staff Writer at CinemaBlend.
Your Daily Blend of Entertainment News
Thank you for signing up to CinemaBlend. You will receive a verification email shortly.
There was a problem. Please refresh the page and try again.