Fallout 4 Fan-Made Trailer Ought To Be Real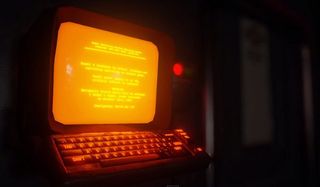 Fallout fans have been waiting years for Bethesda to announce Fallout 4. The official reveal still hasn't happened yet. However, one fan has provided a sort-of consolation prize: a damn good teaser trailer.
The trailer was the work of YouTube user Secret Internet Guy. He describes himself as a "programmer first, an artist second" but his video's still a visual treat. The camera travels through a vault he made with original assets. We see a computer screen, a crate labeled "Vault Construction Element 17-X," and a Mister Handy robot.
"Naturally, this will never be released. It is merely fan fiction & art, it will never be published for people to run on their machines," Secret Internet guy says. "It's merely a tribute. Designed around the Fallout 3 intro style, simply the background music and the environment telling a story."
The video closes with a mock-up logo for Fallout 4: a vault door with the number "4" on it. Underneath it is a quote: "'The truth is - the Vaults were never meant to save anyone."
As GameRanx notes, this is a reference to how certain vaults were used as elaborate social experiments. For example, Vault 21 in Fallout: New Vegas forced residents to resolve disputes through games of chance. The air filtration system in Vault 106 from Fallout 3 was pumped full of psychoactive drugs after it was sealed.
Fallout 4's existence was first confirmed by leaked casting documents. These documents suggested that the game will take place in the Boston area. The Commonwealth, a government established in that region following the nuclear apocalypse, was mentioned several times through Fallout 3. It seems like as good of a setting as any for the fourth game.
Other than that leak, though, we've seen little else about the game. Bethesda decided not to show off the game at any of this summer's conventions, including their own QuakeCon. A fan petition demanding an announcement now has over 10,000 supporters.
The news void has been filled by more than a few hoaxes. For example, a teaser site called TheSurvivor2299.com duped gamers and press alike before being exposed as a fraud.
I'm sure that Secret Internet Guy could've passed this video off as a "leaked Fallout 4 trailer" and gotten a million views in the process. It's polished enough to be passed off as an official video from Bethesda. I'm glad that he didn't go that route, though, for the sake of everyone's sanity.
This poll is no longer available.
Staff Writer at CinemaBlend.
Your Daily Blend of Entertainment News
Thank you for signing up to CinemaBlend. You will receive a verification email shortly.
There was a problem. Please refresh the page and try again.