Fallout 4 Website Is A Hoax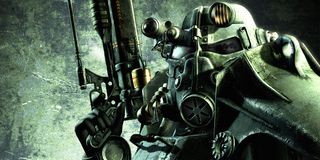 For weeks, Fallout fans have been examining a mysterious site that they believed was a teaser for Fallout 4. Unfortunately, it's all just a hoax.
TheSurvivor2299.com broadcast a series of Morse code messages. Each was diligently translated by the fans at Reddit. The messages made reference to "the Institute," "Black Row" and "Vault 119."
The site's countdown timer was due to end on December 11th. The creators of the site decided not to wait that long to reveal their ruse, though. They updated TheSurvivor2299.com with the following YouTube video:
"Special thanks to /r/Fallout the most amazing community on reddit for resolving all clues," reads the accompanying note. "PSA: YT User 'Elevated Level', Butch, Pitor, Liam Neeson and creator of tunnelsnakesrule.com are not responsible for this 'hoax/rickroll'."
I imagine there are a few people who still think that this is all a Fallout 4 tease. "Ah, the old 'say your teaser site is a hoax and then turn around and actually announce the game' trick. Well played, Bethesda!" some of you might be saying. Well, the post-script on TheSurvivor2299.com, addressed to the "real haters," should convince you that this isn't Bethesda's handiwork:
"Ah, the old 'say your teaser site is a hoax, tell us all to fuck off, and then actually announce the" - No. Stop it.
Bethesda ignored the teaser site for the past few weeks but today denied their involvement in it. Pete Hines, the company's VP of PR and marketing, said on Twitter that they treat hoaxes like all rumors and speculation and simply don't comment on them. A few fans are angry that Bethesda didn't out TheSurvivor2299.com as a hoax right away though and spare fans the eventual disappointment. Hines indicated that they may shoot down these fake sites quicker in the future.
"We could have done better and will learn and move forward. We don't claim to be perfect."
Fallout fans can at least console themselves with the knowledge that Fallout 4 will almost certainly happen. Bethesda knows how popular the franchise is and how eager fans are for the next game. The flurry of speculation and analysis following the launch of TheSurvivor2299.com is just further proof.
Bethesda announced in April that their development team had moved on to their next game. They haven't revealed what that project will be, though. All we know is that it won't be announced at Spike VGX tonight.
Your Daily Blend of Entertainment News
Staff Writer at CinemaBlend.