Fallout 4 Heroes' Voice Actors Revealed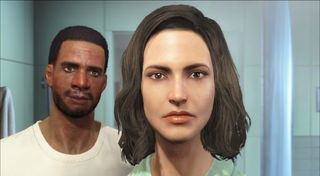 Fallout 4 will do something different from the other games in the series by giving the player-character a voice. Following this revelation the voice actors themselves have been revealed for Bethesda's upcoming title.
Eurogamer came across a tweet from designer and writer for Fallout 4, Emil Pagliarulo, where the voice cast is revealed live and in person. You can see who the male and female voice actors are in the photo below.
It's revealed that Courtney Taylor will be the voice of the female protagonist and Brian T. Delaney will voice the male protagonist.
Delaney, according to Eurogamer, hasn't had a whole lot of work in the field of voice acting but Taylor is a regular when it comes to lending her vocal chords to games that have become historical staples in the gaming industry, including voicing memorable characters like Juhani from Knights of the Old Republic, Amanda Holliday from Destiny, Asheara from Diablo 3: Reaper of Souls and even a voice for Batman: Arkham Knight.
It's interesting that Bethesda decided to go with a voice cast for the main characters in Fallout 4. Although there's always been voiceover for NPCs, the heroes have been traditionally mute. This was presumably due to the various dialogue options presented to players. However, Bethesda finally bit the bullet and recorded all of the heroes' lines.
In addition to having voices for the characters, one of the big new additions to the game is that every single character that you come across within your adventures are designed using the game's create-a-character feature. That's right, it means any character you come across within the game world you can also create that character and play as them. Of course, this applies to the human characters in the game and not the mutants, robots or other creatures in between.
Fallout 4 also sports an all new building creation mode. You can take control of your very own settlement and build it up with custom-made buildings and furnishings as well as setup armories and artillery to defend the base from ruffians and mutant invaders.
Players thankfully won't have to wait long for Fallout 4 to launch given that the game is scheduled to go live for the Xbox One, PS4 and PC this fall.
Your Daily Blend of Entertainment News
Staff Writer at CinemaBlend.