Fallout 4 Mod Lets You Keep Monsters As Pets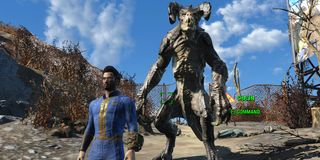 The official modding tools haven't become available yet for Fallout 4, but that hasn't stopped modders from putting a lot of time and effort into creating all sorts of mods for the game. One of the latest mods for the PC version turns Fallout 4 into a post-nuclear Pokemon.
PC Gamer spotted a new mod on the Nexusmods website from user NarcoticsDrugs, which allows players to recruit monsters and animals of all sorts to their team.
So what sort of monsters? Well, the mod description lists deathclaws, yao guais, cats, mutant hounds, super mutant behemoths, raider dogs, gorillas, radscorpions, vicious dogs and even synths. One thing worth noting is that the cat – while it will follow you to the very ends of the Earth – will not be able to enter combat and fight off evil doers.
Now some of you might be thinking that this mod is redundant... since you can already use the PC console commands to call companions by your side to aid you in combat. However, this mod enables players to not only have monsters work side-by-side with them during battle, but it also works with the other Fallout 4 companions you already have recruited. You can essentially take a small, powerful army into battle with you.
If you don't think the whole monster squad team is cool there is a single deer follower mod that sees a two-headed venison trekking alongside you into combat. According to NarcoticsDrugs, both mods are also compatible with another popular mod called the Diane female follower mod. The Diane mod adds another female companion to your stable so when combined with the monster minion mod you can have up to three companions with you at any single time.
Basically, with these companion mods it turns Fallout 4 into a team-oriented, party style action-RPG. That's not a bad thing at all. In fact, with some texture overhauls, model overhauls and a tweak to the weapons in the game, someone could technically do a Valkyria Chronicles total conversion mod. The VATs system would also work well given that it could be used as a turn-based mechanic to give players a more strategic element to the combat by having it pop up for each player attack.
It's just amazing that with Fallout 4 only being out and available for just over a week, the game has already garnered a lot of attention from the modding community and tons of interesting new mods even though the game's modding tools haven't been made available yet.
According to Bethesda the modding tools will be made available some time in early 2016. Once the tools are out there and mods start flowing in, they will open up the mod compatibility mode for the Xbox One. This will give Fallout 4 players on Microsoft's home console access to some of the curated mods from the PC version of the game... and don't expect the nude mods to make the cut.
Later in the year Bethesda plans on opening up mod support for the PlayStation 4 version of Fallout 4 as well, so that all three systems can share similar mods. For now, you can mimic Pokemon by capturing and playing alongside some of the most fearsome creatures in the wasteland.
Staff Writer at CinemaBlend.
Your Daily Blend of Entertainment News
Thank you for signing up to CinemaBlend. You will receive a verification email shortly.
There was a problem. Please refresh the page and try again.